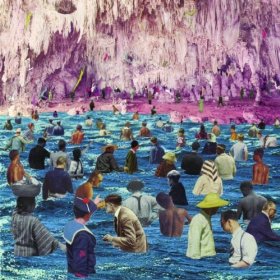 Jonquil
Point of Go
Dovecoat Records
In 2010 I bought Mi Ami's sophomore album Steal Your Face and played it loudly from the open windows of my Korean sedan whenever I would stop to get gas in my parents' small town. The band's almost suffocating, exhausting, maximalist approach went through people's brains in screeching torrents. Steal Your Face somehow maintains a level of discord that seems almost unsafe, and the look on people's faces, the same look that twisted my brow when I first heard it, conveyed the discomfort and the tension aroused by that kind of sonic hellfire. I love that record.
Jonquil's latest, Point of Go, is perhaps the exact opposite of that album. Electro pop and predictable rising and falling action in chord progression marks what is quintessentially modern pop music at its most user-friendly. The band, comin' straight outta Oxford, UK, have identified this effort as being consciously "far more poppy and accessible," and it stands as a testament to how kids today lack reverence for where pop music came from. It has to be difficult to offer an album as a creative elaboration on a genre of music that was essentially perfected 50 years ago, and asserting "poppiness" as a chief identifying feature, and the backbone of one's musical self-awareness seems an almost irreverent way to go about doing things. In this way, Jonquil seems to operate in a similar way to contemporaries Owl City (without being quite so insulting): they give the listener up-tempo jaunts that hearken back to nothing, and seem to acknowledge only the insulated safety that the inherent friendliness of pop provides.
There is nothing noxious or challenging about Point of Go, and it resultantly feels like it lacks charisma and depth. Panda Bear's Person Pitch was lyrically innocuous enough to make you think that maybe he just wasn't very interesting, but that's assuming you could even hear the words float past the epic sample based compositions – simultaneously nostalgia-inducing and technically fresh – that helped make that album a modern masterpiece. Jonquil unfortunately treads directionless ground frequented by similar acts that offer little more than prettiness. For pop to be a success, more is required of the effort behind it than simple accessibility. It's not exactly like the music is running away, after all. "Point of Go (Part 2)" is probably the best effort of the album. The lyrics exercise restraint, contextually mysterious and ambiguous to the extent that when singer Hugo Manuel pines to "be back in the know" as the first verse plateaus into an incongruously sunny chorus, you can feel empathetic toward his plight. It seems to come from a place of genuine angst that resonates from the adult recognition that sometimes there aren't answers. It ultimately dissipates in a clouded gang of chanted vocals that simply sound like they're repetitiously iterating the word "Go." It isn't as grounded as the other tracks on the album and the effect is a sound that's more lush and faded, more free. Unfortunately it's preceded by something that sounds like a movie musical number starring Paolo Nutini where he puts on a funny hat and dances in the street with strangers or something – the type of stuff that overshadows the glimpses of creative daring that other, better groups than Jonquils ilk have dared to try and achieve.
Jonquil: https://www.facebook.com/jonquilband
---