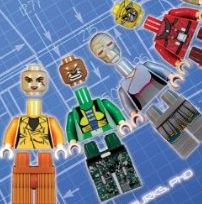 Minifigure Customization
by Jared K. Burks
Brick Journal / Twomorrows Publishing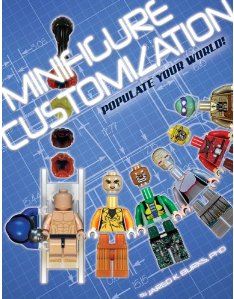 I love getting Brick Journal. The patience and absurdity of building large models out of children's bricks delights, and I admire those who think "I'll spend the next five years reconstructing Mos Eisley out of small plastic bricks in primary colors!" Lego used to be just bricks, but as the product evolved they added enough custom pieces to make Star Wars spacecraft and medieval castles and replicas of famous movie scenes, and in 1974 they introduced "mini figures." These were abstractions of people, intended to be sexless, raceless, ageless and just the right size to click into and populate the Lego grid. The species evolved into an ever-expanding population of creatures and professions complete with individual accessories, hairstyles, and facial expressions. While BrickLink offers more combinations of hats and hair and stuff than most modelers will ever need, this is not enough for the truly rabid Lego enthusiast. It's time for Brick Builders to become serious modelers.
Modeling is an ancient hobby; tin soldiers and HO scale railroads and plastic aircraft all have large enthusiast bases and endless sources of supply, and this handy booklet helps you tap into that industry. Author Burks begins with some philosophy – how closely do you want to stick to the Lego cannon? Some modelers stick to "official" Lego release parts and accessories, some simply add custom decals, and then we find the serious enthusiasts. We see how to re-dye plastic for new colors, repurpose official parts, carve new objects out of clay, and finally do your own plastic casting. About the only method you won't find here is 3D printing, and that can't be far off.
The information is reasonably complete, safety is emphasized (yes, you can hurt yourself working on Lego), and what you really need is enthusiasm, creativity, and patience. Even if you're not going to carve your own Mr. T or Hawk Girl, there's plenty of inspiration in here as well as tips on displaying and photographing your creations along with multiple sources of parts and premade minifigs. My favorites: the Zombie minifigs complete with exposed bones and realistic blood vessels. It's really amazing what you can do in Legoland, and even if you're not into hacking minifigs, they skills here apply to other Lego projects and model making in general. The text is occasionally clunky, but the message isn't: "Sand early, and sand often." Amen.
Twomorrows: http://www.twomorrows.com • BrickLink: http://www.bricklink.com
---