Warped Tour 2012
with New Found Glory, Taking Back Sunday, Of Mice & Men, Blood on the Dance Floor, Falling in Reverse, Polar Bear Club, Matt Toka, and more
Central Florida Fairgrounds, Orlando, FL • July 27, 2012
Jen Cray
Warped Tour Day is one of my favorite days of the year. The overwhelming array of simultaneous performances, the people watching (Is that chick NAKED?! Is that a chubby Batman?!), the carnival atmosphere, the uncorrupted elation on the young faces of virgin concert-goers, the intermingling of bands and fans… I don't even mind the heat (much) anymore for two reasons:
There's a strange primal joy in getting ridiculously sweaty and dirty.
The post Warped Tour shower is the BEST SHOWER you will ever experience!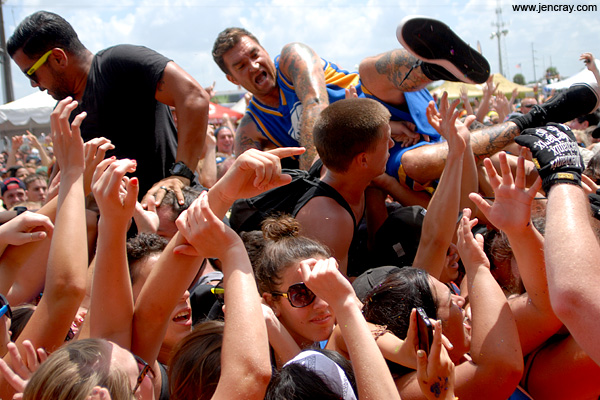 It all begins before the sun has even reached its apex. Through the gates, past the many vendors, thousands of fans go in search of the big, red, inflatable schedule to map out who's playing when and where. One of the constants throughout the 18 years of Kevin Lyman's Van's Warped Tour is that there is no heirarchy for set times. A mainstage "marquee" band like New Found Glory or Taking Back Sunday may play at 2pm one day and 8pm the next. And the kicker that keeps both the bands and the attendees on their toes is that the schedule isn't revealed until the gates open, day of show. If you don't want to risk missing the bands you bought the tickets to see, you best get to the 'grounds early.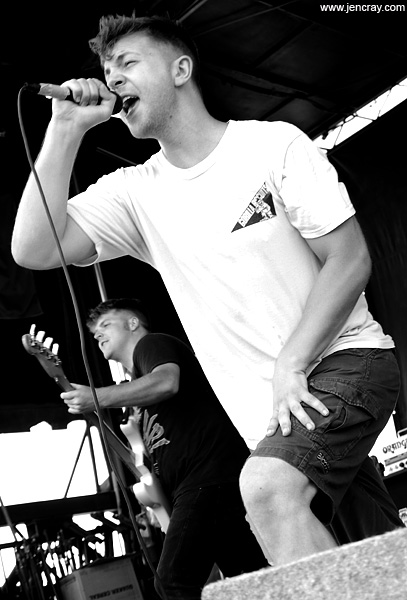 Sampling bites of everything I came upon, even the gnarly looking mystery meat that I just knew would be foul, I found the side dishes on the buffet line to be some of the tastiest concoctions. Hostage Calm, with their sped-up Smiths-sounding New Wave pop, evoked the UK, though they hail from the far-from-Manchester world of Connecticut. Few, 'cept for those in line for the nearby restrooms and water fountains, hung about for their hidden gem of a set, which was a shame. Masses gathered for metalcore acts like Of Mice & Men (who whipped up, perhaps, the largest circle pit of the afternoon), but the little-bands-that-could went largely unnoticed. Shameful.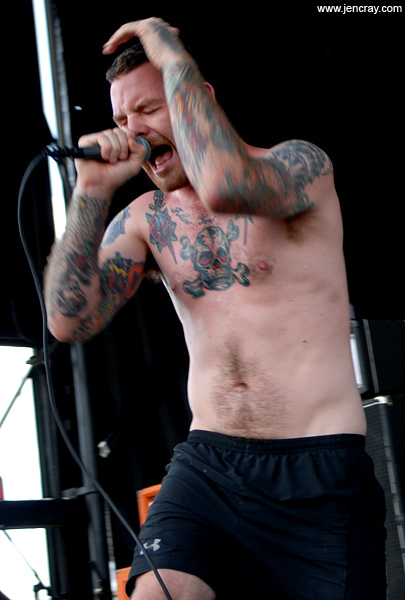 Hostage Calm's manager's band did quite well for themselves over on the Tilly's Stage. Buddy Nielsen, frontman for Warped veterans Senses Fail , was dressed like Henry Rollins, and his tattooed torso was red with the exertion of chugging along through their scream-heavy melodic hardcore in the brutal July sun. Even with an unenviable time slot that put them in direct crowd competition with New Found Glory, Sleeping With Sirens (another Orlando band on the bill!), and Miss May I, the Jersey band kept their loyals happy with their band choice.
It's always nice to see some estrogen thrown into the mix at this predominantly boy fest. The pubescent and colorful Cherri Bomb were adorable for a minute or two, until the novelty of an all teen girl band (ages 14-17) wore off and I realized that they sounded more like Josie & the Pussycats than their namesake, The Runaways.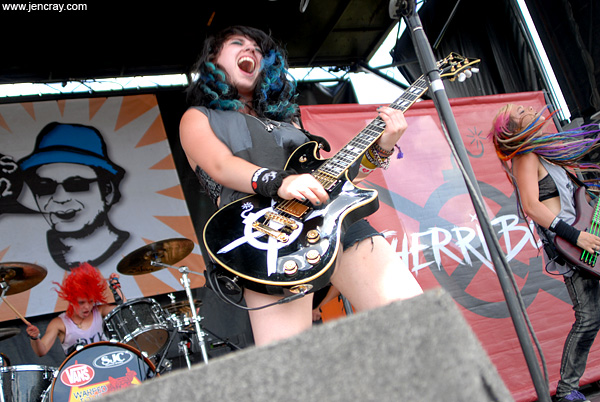 Another tucked-away treasure that went largely unseen was Matt Toka , a pop/punk pretty boy with chartreuse hair and just the right amount of cockiness to turn his modest audience into a fan frenzy. The Warped Tour newbie spent much of his set in and among the crowd, while his band (including former Good Charlotte drummer Chris Wilson) rocked it in the shade of the Ernie Ball Stage.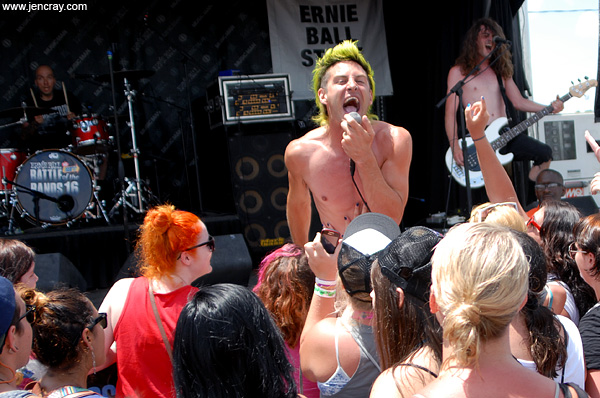 When the bands end up in the hands of the fans, that's when the true spirit of Warped Tour is felt most. When Jimmy Stadt of Polar Bear Club urged his audience to storm the barricade on which he stood, a most impressive people pile-up erupted – nearly giving security guards an aneurysm, I'm sure.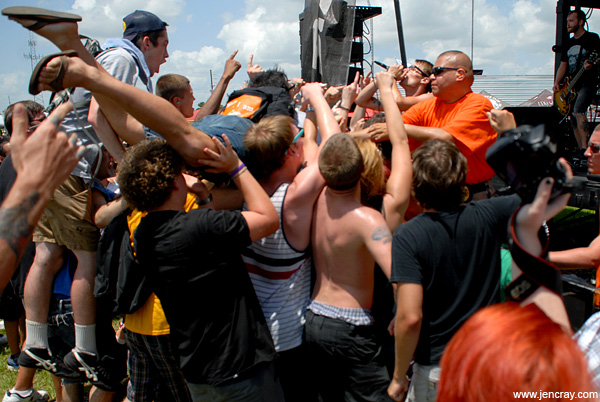 On the two main stages, parked right next to one another and offering up a continuous onslaught of constant excitement, metalcore gave way to pop punk, which gave way to emo, giving way to electronic dance music. Falling in Reverse were made up like glam rockers, but emoted like sad vampires melting in the sun. It was weird, but the kiddies loved 'em.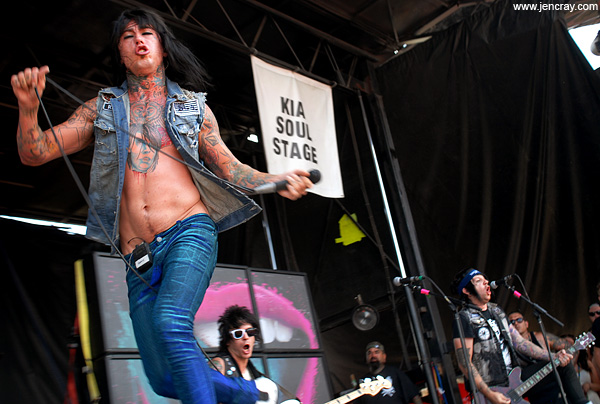 Even for the filler acts, those pair of stages stayed packed; fans gathered in waiting for those to come, like New Found Glory , who quickly turned an already hot mass into a hot mess of hormones and adrenaline when lead singer Jordan Pundik hopped down into the audience for the entire opening song (one of the band's biggest, and best, "Hit or Miss"). Further endearing themselves to the local crowd, guitarist Kevin Skaff of Orlando's own A Day to Remember joined them for the song, allowing NFG's Chad Gilbert to do his time in the crowd's hands.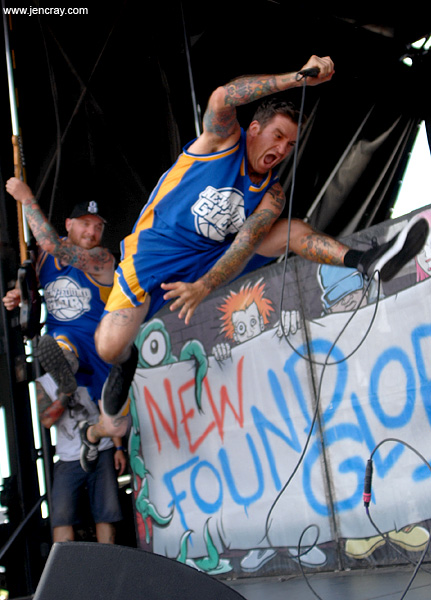 I've eaten my own words when it comes to this pop punk wonder band. It was in a previous Warped Tour review (from 2007) that I proclaimed how I would "never like their music." Either I've gotten soft as the years have passed, or I've grown more open to the poppier side of punk. Whatever the case, I've come to like this Florida-bred band and their performance, complete with a nod to Green Day in the form of a cover of "Basket Case," which was my favorite of the day…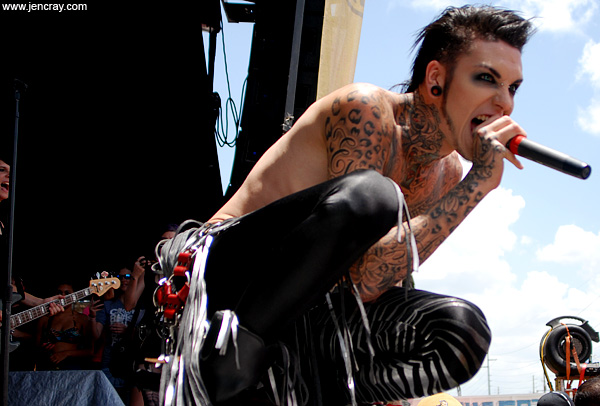 …though Blood on the Dance Floor (from Orlando!) get the trophy for the most entertaining. They look like Gothic Manga characters, they tossed out a dozen giant red beach balls with their name emblazoned on the side, covered the scorched crowd in bubbles shot from cannons, and dusted us all with buckets of glitter. Electro dance music meets shock glam is not my chosen brew (sample lyric: I wanna taste your sweet/ I wanna fuck you hard/ I wanna feel you deep from "Sexting"), but I had a blast watching them!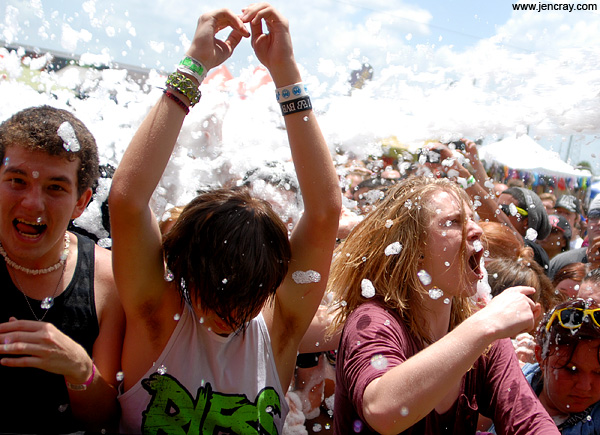 Really that's Warped Tour, in a nutshell. The music may not always be to your liking, at least not ALL of it, but you go every year anyway because IT'S A BLAST!
To see more Warped Tour galleries: www.jencray.com.
Warped Tour: http://vanswarpedtour.com ◼
---