Alanis Morissette
Ippodromo Del Galoppo, Milan, Italy • July 18th 2012
Yifat Grizman
Seventeen years ago I fell in love with a girl. I was in high school, she was four years older than me and I could swear that she changed my life. Her name was Alanis Morissette. I can still remember the exact moment when I first listened to Jagged Little Pill and was utterly mesmerized. In retrospect, I know that it was a defining moment.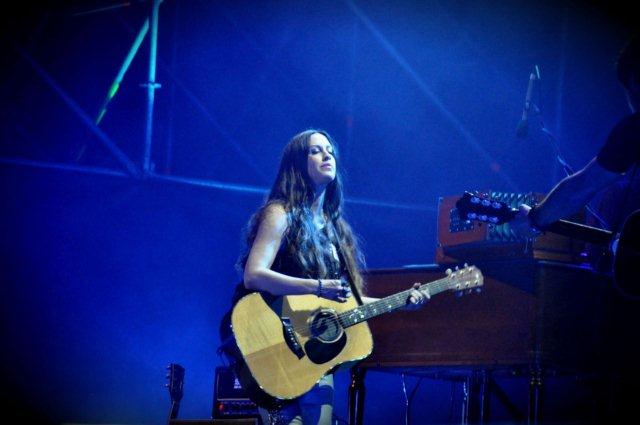 Twelve years have passed since I last saw her live, and here I am in a huge race-course stadium partially turned concert venue. It's hot and humid, just like back in my hometown, and I'm in a crowd of about 7000 Italian people, all waiting for the same thing. My heart is still beating fast when I realize the reason I'm there, thousands of kilometers away from home in Israel.
The first few chords of "I Remain" (from the Prince of Persia soundtrack) are played by Alanis's band members, the talented five, and break the silence. Alanis isn't there yet, but her voice is heard from somewhere, singing the lyrics. Then it happens. She appears on stage to the crowd's cheering and clapping, storming into "Woman Down," one of the new songs from her upcoming album, Havoc and Bright Lights. She walks from one edge of the big stage to the other, gives attention to every part of the crowd as much as she can, waves her hair and twists her fingers like she's in a tantrum.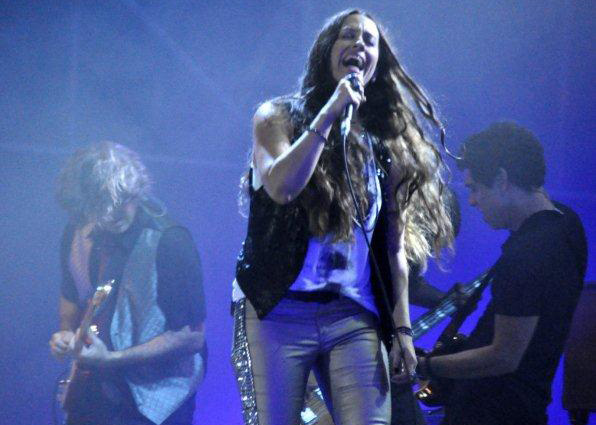 "All I Really Want" and "You Learn" (from Jagged Little Pill) come next and remind everyone of the magic hidden in this little woman. She plays her old songs just like in the old times, like nothing has changed between then and now. The energy is still there, the passion is still there, I still feel the same towards her and her music as I did seventeen years ago. Alanis plays the beautiful "Guardian," her first single off of the upcoming album. I keep thinking that during all this time, while I was growing up listening to her, in a way she was my guardian angel, even without knowing it or doing anything for it. (Will she ever know?)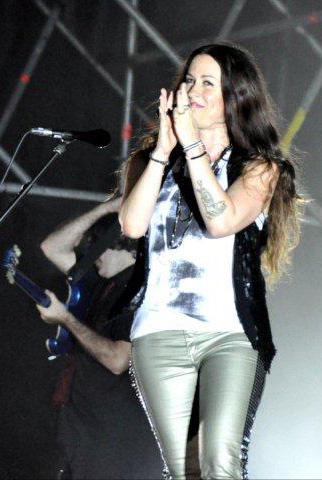 What I thought wasn't an important song on the set list, "Flinch" (from Under Rug Swept, 2002) turned out to be a perfect choice. I was deeply moved by this live version, it made me do what Alanis always "forced" me to do – listen to the lyrics carefully. Unfortunately, not everyone thought the same because that was the only point during the concert that people kept talking and interrupting the music.
She played some other songs from Jagged Little Pill and needless to say, every time it happened, the crowd was ecstatic. She couldn't stop smiling and from time to time let the people sing. She didn't say much to the audience, other than the occasional "Grazie mille" or saying how much she missed Milan and Italy (and replying "I love you too!" to someone who confessed his love to her) but her smile and her aura were meaningful enough. No more words were needed.
There were some surprises for me on the set list, such as "Citizen of the Planet" (from the 2008 Flavors of Entanglement) and "21 Things I Want in a Lover" (from Under Rug Swept), but they both sounded amazing. Alanis was at her best, playing her guitar and being the rock chick that I've always thought she was.
Overall, Alanis and her band played four songs from the new album and each one, different in its essence from one another, sounded very promising.
The highlight of the evening for me was when she came on stage, after singing "Hand in My Pocket" as a first encore, and sang one of the most overwhelming songs she has ever written, "Uninvited." The crowd was so silent and she started singing it like an a cappella, giving goosebumps to every single person in that stadium. I wasn't sure if it was sweat or tears on my face.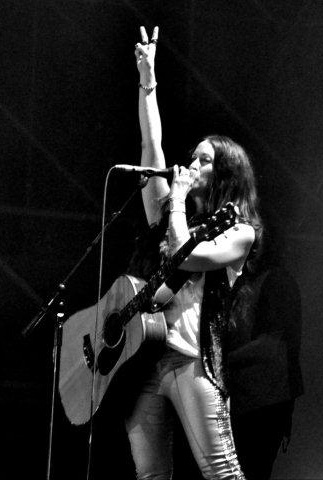 For the last and final encore, Alanis played "Thank U," the only song she played from one of her best albums in my opinion, Supposed Former Infatuation Junkie (1998). She thanks India, clarity, frailty, and more, and all I wanted at that point was to thank HER. Not only for her inspiring music, but for being present (unknowingly) in so many significant moments of my life and maybe even for helping me become what and whom I've become since the age of 16.
Almost two hours and one million Italian mosquitoes later, I was a happy person. I witnessed my first love and she was just like I remembered her: fierce, beautiful, passionate, real, giving everything she's got and with that radiance around her that no one else I know has. So thank u, Alanis, for everything. I'm still very much in love with you and your music.
Alanis Morissette: http://www.alanis.com ◼
---