The Ugly Club
The Studio at Webster Hall, NYC • August 17, 2012
May Terry
New Jersey band The Ugly Club recently set back the nostalgia dial to my days of youth at The Studio at Webster Hall, playing songs from their recently released album, You Belong to the Minutes. It's a title that sums up much of the album's lyrics, which focus on living in the present and dealing with relationships, heartache, and all the wonderful archetypes of love in our pubescent lives.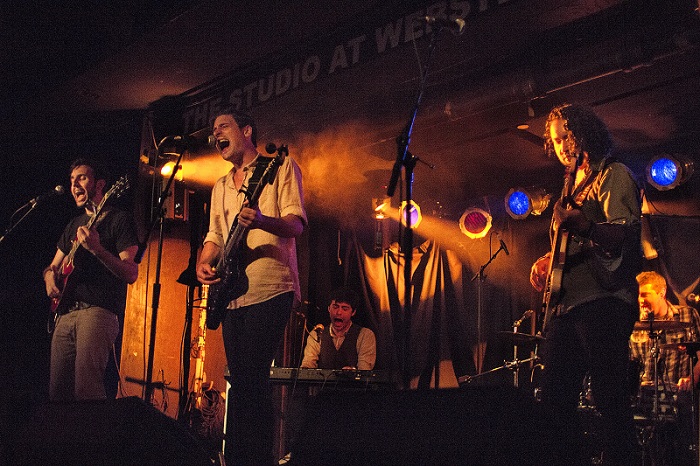 There's an indie-teen appeal to this band's music, thanks to the band's front-man, Ryan Egan, whose smooth and rather clean voice echoes the look of the clean-shaven and sensitive boy next door. With a sharpened charisma, Egan can woo starry-eyed, suburban high school girls who fill their notebooks with doodles of dotted "I's" with smiley faces and hearts, and swoon them to download the band's songs on their iPhones. Their tracks are an easy fit for a network TV teen show, or the soundtrack to your favorite summer-of-love film.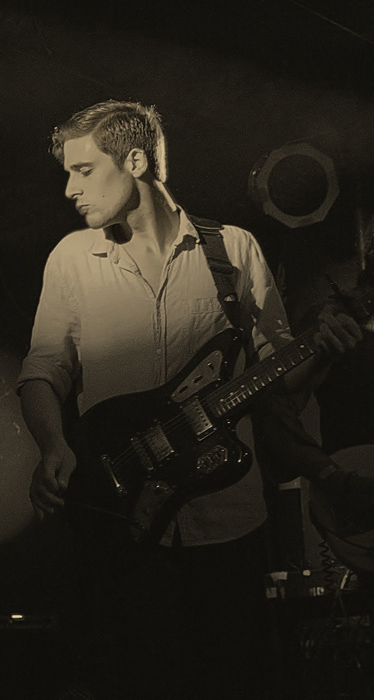 Let's stop there, though. I wouldn't just write the band off as a pop band with a front-man who doubles as teen-girl candy. Discerning ears willing to listen through the pop sound will get that this band, as a whole, has some thoughtful musical ideas in their songs and a solid performance that makes for a good show.
"Loosen Up" had the band in tight syncopation with catchy percussive patterns, funk-rock guitar licks, and a chorus with upbeat harmonies. "Last Evenings (Floating)" starts with a 4/4 time, breaks midway to 3/4 time to convey a skipping, waltzy feel, and returns to 4/4 in a way that one may hear in a '70s soft rock song from bands like 10CC.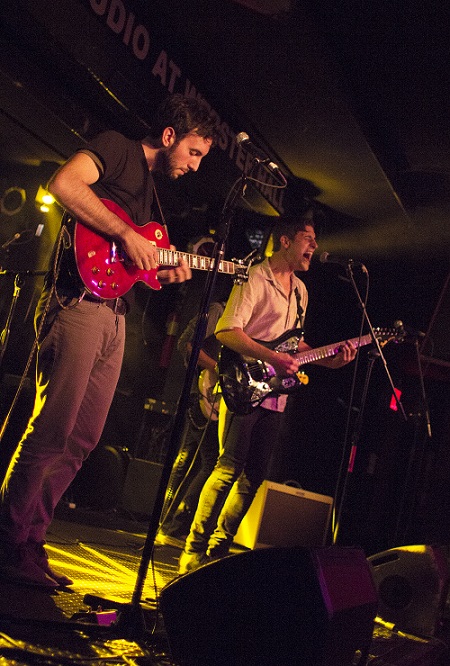 Planned or not, there's a touch of The Cure's Robert Smith vocal style in songs like "Mountain" and "Under a Great Wave." The latter is an especially well-performed song that conveyed an intimate feel in this rather dark and dingy basement of a venue, thanks to the synth-laden tones from keyboardist Taylor Mandel. In "Let's Sleep Around," Egan vocalizes a falsetto reminiscent of Smokey Robinson atop music that waffles between '70s soft rock songs and boy-band harmonies from the early '60s.
This eclectic mix reflects an evolution of musical tastes from Egan, who cited an early inspiration in mimicking pop-punk bands like Green Day, but then moved towards a mix of funk and pop from more melodic artists like Stevie Wonder. I can hear traces of this in the band's more soulful songs, like "Unraveling You" with those bluesy chord transitions brought out by great keyboard backings. The searing guitar solo at the song's end provided a welcome edginess that reflects the band's potential for breaking out of the pop mold and morphing into a rock fusion sound.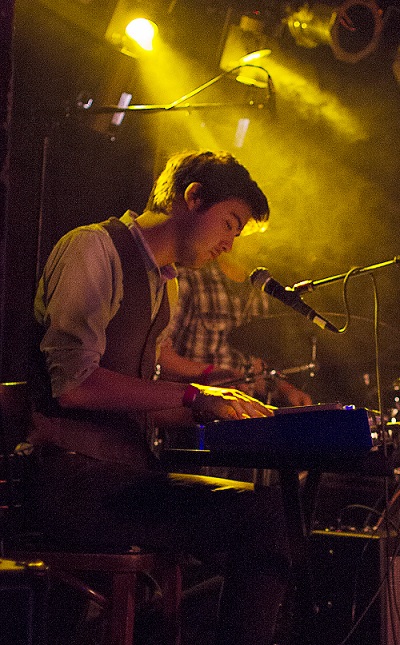 I'm optimistic that the band's lyrics will grow beyond introspective musings on relationships and love. Thankfully, there are glimpses of this maturing sound. The last song in the set, "David Foster Wallace" (a reference to the author of the post-modern classic, Infinite Jest), had an intriguing introductory synth sequence which was followed by lyrics befitting Wallace's futuristic vision of society. Maybe this is a sign of the future music to come for The Ugly Club. If so, it's one that I look forward to hearing at future events. But for now, belong to the minutes and enjoy their present performance as the band continues to develop a great sound and style.
The Ugly Club: http://theuglyclubmusic.com ◼
---