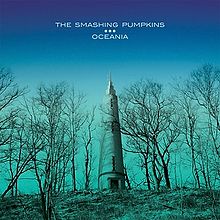 Smashing Pumpkins
Oceania
Martha's Music/EMI
You still wear your old Smashing Pumpkins t-shirt – you know, the one with with the silver star beneath the word "zero" on the front – even though it fits a little tighter than it did 15 years ago when you bought it. It's faded, has a few holes in it, and doesn't look quite as good as it did when paired with your baggy jeans and greasy hair, but you wear it anyway because you still love the band and because it reminds you of a simpler time.
…a time when you knew the names and faces of all of the Pumpkins, not just Billy Corgan. Oceania, the new full length effort by Corgan and company (guitarist Jeff Schroeder, drummer Mike Byrne, bassist/vocalist Nicole Fiorentino), is kind of like that t-shirt. It's super cool, if not a little nostalgic, but it will always be a piece of your past. You can't wash off the beautiful stink of pot and nag champa that Billy Corgan's voice recalls anymore than you can listen to "The Chimera" without thinking how nicely it would've fit onto Siamese Dream. The nostalgia factor doesn't detract from the acheivement that is this song, but it hangs in the background like the ghost of music's past.
"The Celestials," a beautiful acoustic ballad, stands out as one of the best Smashing Pumpkins songs, perhaps ever. "Pale Horse" is another slow number that sticks to the senses, only this one revolves around a simple, intoxicating guitar riff. "Violet Rays," with its desperate cry of I'll kiss anyone tonight, would be a delicious addition to any sad teenager's dark bedroom torments. This has always been a Corgan strongpoint – songs to feed the melancholy beast.
These few songs aside, the better part of the album fades into background music at times. Perhaps it's because Oceania is to be considered part of their 44-song concept album Teargarden by Kaleidyscope, an epic effort that's been in the works since 2009. You know what they say, it can't be all highs – every 44-song album needs its lulls.
The previous batch of songs for Teargarden were released one by one, for free, on the band's website; these 13 songs will debut as a whole with the release of Oceania. No pre-release single, no video, just an album release. Old school, like Billy Corgan. He's just your average musical genius pulling sometimes beautiful, sometimes brilliant, but always innovative compositions out of his shiny, bald noggin.
Smashing Pumpkins: http://www.smashingpumpkins.com
---