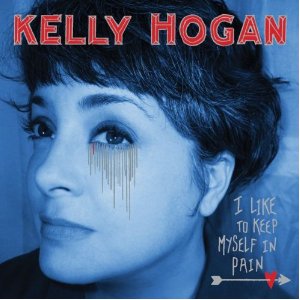 Kelly Hogan
I Like to Keep Myself in Pain
Anti
Georgia native Kelly Hogan became known as the vocalist for The Jody Grind and the Rock*A*Teens in Atlanta in the early '90s, but it wasn't until she decamped Cabbagetown for Chicago and hooked up with the Bloodshot Record crowd that the rest of the country came to know what Georgians had realized long ago: that Hogan can sing a bird off a wire. Since then she's recorded and performed with a who's-who of hip – Neko Case, Andrew Bird, the Mekon's Jon Langford, Mavis Staples, and more – but it's been a long time waiting on a record with her name on the spine. Her last was Because It Feel Good in 2001.
I Like to Keep Myself in Pain is a stunning return for Hogan and an odds-on favorite for record of the year. She called out to her songwriting pals for songs they'd like her to sing, and what she got back is an emotive mixture of pop, country, and rock that is sometimes called "southern soul." It's the stuff of Memphis and the great songs of Dan Penn and Spooner Oldham, "Cry Like a Baby" and "Dark End of the Street" to name a couple, that isn't as polished as Motown but a bit grittier, à la Stax. To this end she got the legendary Memphis keyboard man, Booker T. Jones, who epitomizes the genre. ("Green Onions," anyone?) Add in James Gadson (Bill Withers, Beck, et al.), Gabe Roth of the Dap-Kings, and NRBQ guitarist Scott Ligon, and you have a hall of fame band to match Hogan's pipes.
Starting with "Dusty Groove" penned by Freakwater's Catherine Irwin, Hogan never rushes, never over sings, but by the time she gets to the chorus – Number one with a bullet/ No you can't catch me – the hairs stand up on the back of your neck. The title track, featuring great Willie Nelson-inspired nylon guitar work from Ligon, sounds a lot like the country divas of the '60s – think Loretta Lynn – gone a bit pop, à la Bacharach. The entire album stands amid a crossroad of influences and styles, all providing that luscious voice to charm, warn, or cry, depending on the mood. This is more than just a good album; it's a great record, one that in time will be thought of as fondly and as importantly as Dusty Springfield's 1969 Dusty in Memphis. Let's hope we don't have to wait so long for a follow-up! I Like to Keep Myself in Pain is a masterpiece.
Kelly Hogan: http://www.kellyhogan.com
---