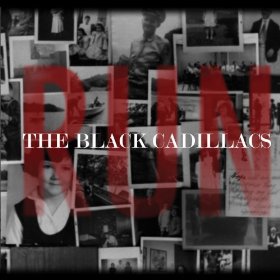 The Black Cadillacs
Run
Young Giant Records
Sometimes these guys make you rock, sometimes these guys make you cry, and sometimes they do both at the same time. This six-piece from Knoxville has one foot in the southern blues-rock tradition and the other in the post-millennial indie phenomenon, and they mix these two not-incompatible worlds to give us music that can be lonely, angry, or just head-bangingly beautiful.
Opener "Classic Fool" could be a Dylan track from his suicide-provoking "Time Out of Mind" disc, and it leads in to the power rocking "Run, Run." You could almost call that a title track; it's loud, edgy, and moans "We'll make it someday." But the subtext makes me think of coming home to an empty house trailer with a "Dear John" note pasted to the refrigerator with catsup. Hell, there a few beers left, let's do some hard thinking about love.
As your higher brain functions start falling down the stairs, the stereo blasts "Would You Be So Kind." It's the imagined argument about "she shouldn't, but she did" and, let's face it, your options are either much broader or much more narrow, depending on… well, depending on. Musically, this band is strong and fresh, but it's the lyrics and the thought that went into laying down the tracks that really appeals to me. I'm not ready to call this a concept album, but if you need a concept album about faded country-flavored love, this might be your ticket.
I hope these guys tour the South soon – I'm feeling way too cheery, and that never leads anywhere good in music.
The Black Cadillacs: http://black-cadillacs.com • http://facebook.com/TheBlackCadillacs
---