Faun Fables
Jack Rabbits, Jacksonville, FL • September 13, 2012
Matthew Moyer
One of the biggest quandaries in the whole art-life equation is whether it is at all realistic to integrate your domestic/family life into the confines of a touring, recording "rock" band. The success rate is very low, the surprise divorce of Sonic Youth's Thurston Moore and Kim Gordon being a recent example. That said, I guess we're lucky that (a) Faun Fables isn't a rock band and (b) Dawn McCarthy doesn't give a good goddamn about what's come before. What I saw tonight wasn't just another rock show in just another rock nightclub in front of just another group of iPhone-fixated narcissists; what I saw was a fucking incredibly affirming demonstration of music and art's abilities to provide a niche, a nurturing space for FAMILIES instead of just some escape route for Peter Pans gone wild. (And, disclaimer, I usually hate kids but this was just too joyous for even me to resist.)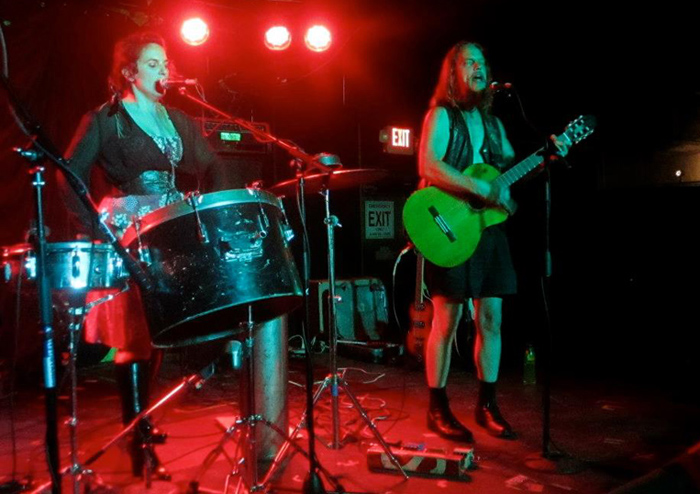 From the beginning, McCarthy makes it clear that, though she follows her creative muse relentlessly, her LIFE takes an equal space next to her art. She walks onstage with a regal bearing, but immediately beams at her two daughters stageside, as she takes her place behind a tangle of percussion and drums. Joining her onstage is longtime partner and creative foil Nils Frykdahl, looking like a younger member of Saint Vitus, toting a goddamn flute and still looking metal as hell. They immediately launch into a strange, spry, otherworldly flute/drums duet.
Anyone else, I would have walked RIGHT out. But Faun Fables, they make it work, they challenge your ears with musical forms that are new and mysterious or hoary and seemingly uncool and recast them right in front of you, disparate musical traditions from centuries of songforms from the various folk idioms collide drunkenly into the darker nether regions of pop music to craft something timeless but in time, eldritch, and yet gleeful, like stumbling into some late night revel during the first stirrings of autumn. It's something to behold.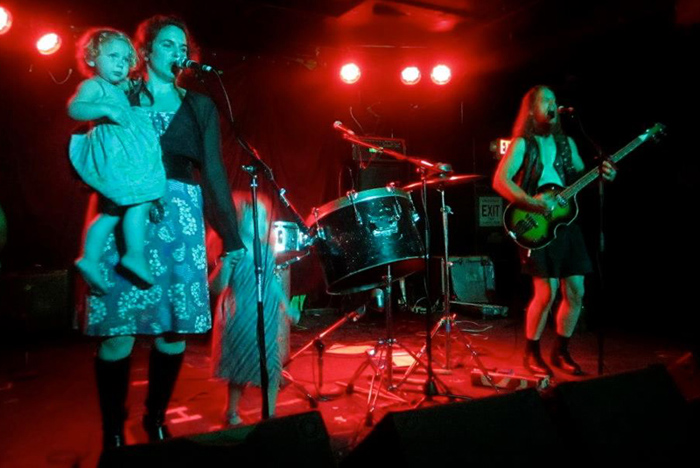 From there it's a raucous blur of instrument changes – guitars, basses, all manner of drums, bells make appearances – and making the setlist up on the fly depending on a momentary whim. The two young daughters dance maniacally at the side of the stage, and squeal things like "Hi Mommy!" in-between songs. And somehow that doesn't puncture Faun Fables' witchy mystique at all. Maybe it's McCarthy's voice, recalling one of Monica Richards' of Faith and the Muse at her best. Maybe it's Frykdahl's leather vest-with-no-shirt look and kinetic stage presence. Or, I don't know, maybe it's because THEY DO A SONG ABOUT WEREWOLVES?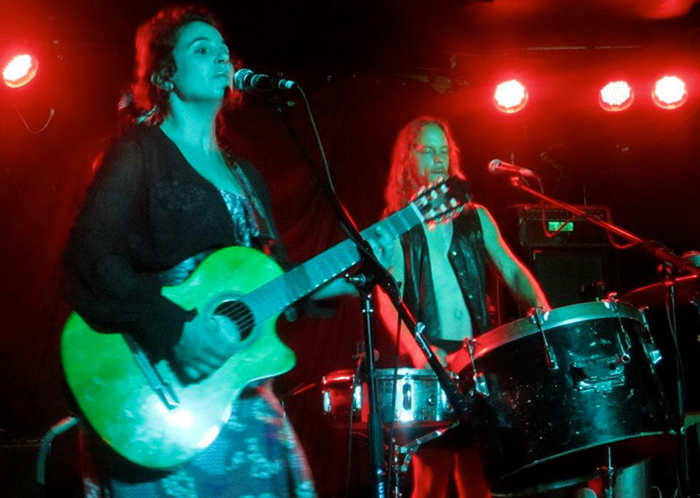 Faun Fables dip in and out of their own rich catalog, but play ethnomusicologist as well, airing a song by Polish composer Zygmunt Konieczny, and a skeletal, bass-voice-mouth-percussion cover of a Brigitte Fontaine number that swings like all fuck. They gamely attempt to bring their daughters onstage to play bells during one song, but the girls get totally bored with that about 45 seconds in. (Lesson: All kids think their parents are perpetually square.) The Fontaine cover, with full family participation, ends the night, and emblematic of the puckish sense of mischief that's pervaded the evening, Frykdahl earnestly enthuses, "Thank you very much! There's more music to come. I'm not sure who the next band is, but I saw them loading in a drumkit. So if you're a devotee of drums, you're in for a treat."
Genius.
Faun Fables: http://www.faunfables.com ◼
---