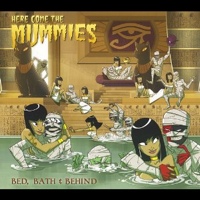 Here Come the Mummies
Bed, Bath & Behind
Sphinxter
OK, these guys are a complete gimmick but so much fun you'll forgive them any on-stage excess. They wear full mummy costumes on stage, stay in motion at all times and hide behind stage names like Mummy Cass (guitar, lead vocals), Eddie Mummy (drums, vocals) and K.W. Tut (bass). Counting these guys, there are two bass players and a six-piece brass line powering this rock show, and with that fire power they hammer out tight funk grooves that ought to back up a cheap Blaxploitation flick.
It's always party time in the sarcophagus. On "It's On Tonight" Cass begs "I want to know you" until you either slap him right in the bandages or go get embalmed with him. "Aeroplane Blonde" Travoltas its way across the dance floor, down-tempo old school disco with a nice love story to ignore as the floor flashes below your feet. Other cuts like "The Worm" or "Stick it" stay instrumental but everyone gets to flash a solo at some point or another.
Points for clever lyrics: "Glamazon" is a fashion show giggle, and title track "Bed Bath and Behind" pushes the limits of PG-13 family values. Although this disc can't capture the spectacle of a Mummies show, it's still funk disco explosion of fun-time music.
Here Come The Mummies: http://www.herecomethemummies.com/
---