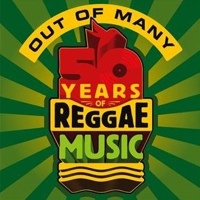 Out of Many
50 Years of Reggae Music
VP Records
Jamaica has such a rich musical history that any attempt to sum up or categorize the island's music seems like a staggering task. However, VP Records has completed the Herculean chore and produced Out of Many: 50 Years of Reggae Music, a three disc set of Jamaican music, ranging from calypso to dancehall and just about every musical style in between.
The music is arranged chronologically starting with 1962's calypso hit "Independent Jamaica" by Lord Creator, ending with Peetah Morgan and Hollie Cook's 2012 version. Each year gets a song, which considering the decade between the mid '60s and mid '70s created enough music to support several reissue labels just on their own, the act of narrowing down one song for a particular year must have been daunting indeed.
The first disc is a thorough trip up to 1980, hitting many of the different styles from ska, calypso and roots reggae while avoiding many of the names familiar to general audiences – you're not going to get Bob Marley or Jimmy Cliff but you will get Augustus Pablo, Dennis Brown, and the Skatalites. Two of the opening songs, "Blow Roland Blow" and "Malcolm X" featuring Roland Alphonso and the Skatalites, preview the future of Jamaican music, as these would influence and play on countless Jamaican hits.
The song selection, while not hipsterly obscure, might not be familiar to a general audience, with the possible exception of Culture's "Two Sevens Clash." Of course, there are many songs here that should be better known, including Dennis Brown's "Westbound Train" with its lifting of Al Green's "Love and Happiness" guitar lick or Augustus Pablo's haunting "Java."
The second disc takes us up to 1996, covering a large period of music that doesn't get a lot of love from the reissue labels. Of special note is Wayne Smith's 1985 "Under Me Sleng Teng," the first completely computerized Jamaican song which would have a profound influence on the country's music from there on out. Interestingly, there is a high ratio of female artists throughout the entire collection, especially on this disc, including Lady Saw's 1996 "Give Me the Reason," a tune harking back to the Lover's Rock era, and Krystal's teaming up with Shabba Ranks on "Twice My Age," her floating vocals contrasting nicely with his hyper-fast toasts.
The final disc takes us up to today with a great selection from the last decade or so of Jamaica's music. Heavy hitters like Elephant Man, Sean Paul, and Beenie Man along with some nods to the past like Gyptian's "Hold You" and Yellowman's remix of his 1983 hit "Zungguzungguguzungguzeng" and Peetah Morgan and Hollie Cook's 2012 "Independent Jamaica" remix, suggesting the country's constant recycling, remaking, and updating of their rich musical heritage.
For those looking for a good intermediate sampling of a country's incredibly rich and diverse musical history, or are just looking to fill in musical gaps in certain years or decades, "Out of Many" will be a valuable compilation. Sure, you won't get "007 (Shanty Town)" or "Rudy, A Message to You," but for a good primer on Jamaica's musical history, Out of Many is hard to beat.
VP Records: http://vprecords.com • http://www.vpreggae.com
---