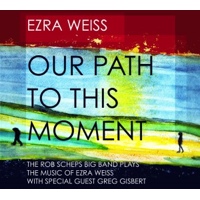 Ezra Weiss
Our Path To This Moment
Roark
Big bands are back, jazz is back, and the past can't be far off now. Ezra Weiss is an up and coming young composer, arranger, and pianist who effectively exploits the capabilities of a 17-piece orchestra. His nefarious purpose is making complex, engaging music that rides that rough road between dissonant bebop and the cloying sweetness of slow dance ballroom. No lyrics here, you're just in it for the melody and mood.
These tracks are all long and languid; there are some deep ideas here as Weiss takes the luxury of time and explores them in depth. Phrases are defined, modified, and play sophisticated call and response games with each other. Sometimes the piano is warm and dominating, other times the brasses take center stage, and while we don't exactly get a seven-minute drum solos, each instrument gets its moment in the sun, and then again the smoky back room.
Weiss make a unique blend of sounds, sliding effortlessly from a Sam Spade "stabbed by a dame in a tight dress" optimism to an edgy, bad part of town club sound; you know you're safe as long as you keep a low profile and stay inside, but outside there a big bad world and it's ready to take more than your maracas away. I won't belabor the inner meanings of each cut, the press kit does that better than I ever will. But take it from me: this is the sort of music that makes you WANT to get smoke in your eyes.
Weiss: http://www.ezraweiss.com
---