Weezer
with Ash
Hard Rock Live, Orlando, FL • November 10, 2012
Jen Cray
Pissing in plastic cups before we went onstage/ Playing hacky sack when Audioslave was still Rage… Memories make me want to go back there, back there. – "Memories"
Everything looks shinier when viewed through the golden lenses of time… Weezer included.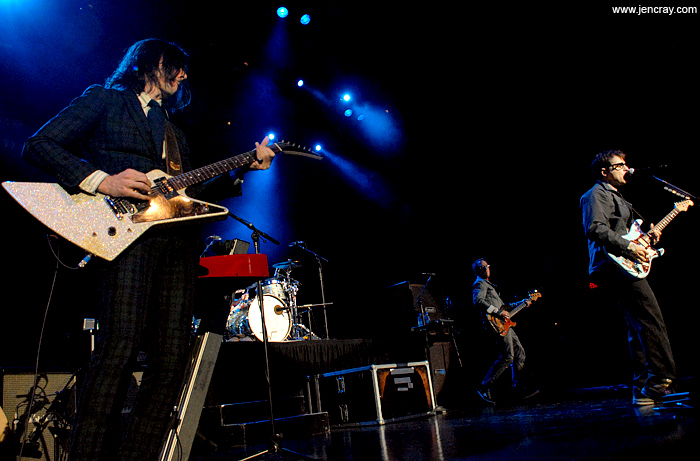 For this pair of Memories Shows at Orlando's Hard Rock Live, they not only are digging through the nostalgia bin all the way back to their 1992 debut – tonight they play the infamous Blue Album in its entirety, night two they'll play Pinkerton – but they've brought another '90s act along as the warm up.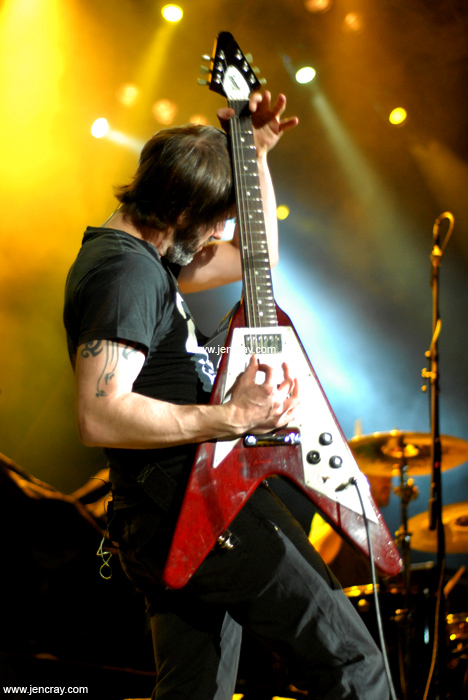 Ash, a band that toured with Weezer back in 1996, flew in from Northern Ireland for a fistful of Weezer dates before heading out on their own. It's their first US tour in seven years, as frontman Tim Wheeler giddily declares onstage. The trio (all original members) burns through songs that itch at the corner of your brain as familiar melodies that you somehow know the choruses to. "Girl from Mars," "Kung Fu"… they ring a long-since rusted bell, like Crystal Pepsi or Bubble Tape… "yeah, I remember liking that," you think, while nodding your head along.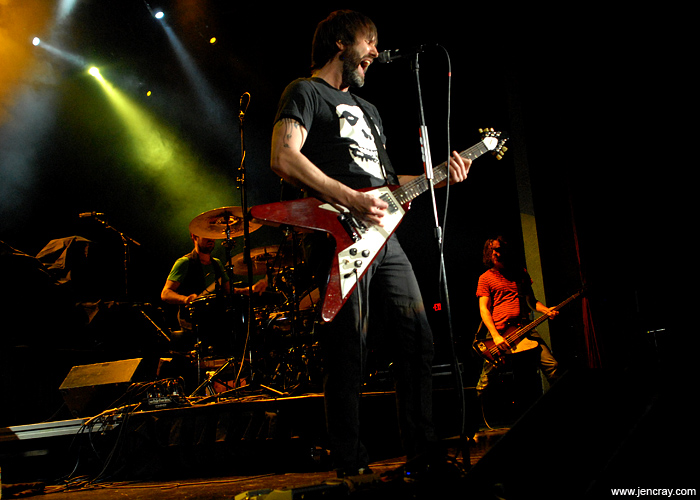 What's most notable about Ash, other than their tight sound and bassist Mark Hamilton's extra-wide-legged squat stance, is how their newest song, "Return of the White Rabbit," is the strongest song in their set. To say that this is unusual for a band that's been around for as long as these guys have (20 years) is an understatement. And the audience, a sold-out room full of Weezer-ites complete with thrift-store suits and nerdy glasses was into it. Maybe because Ash sounds a lot like Weezer with more sleek and less geek.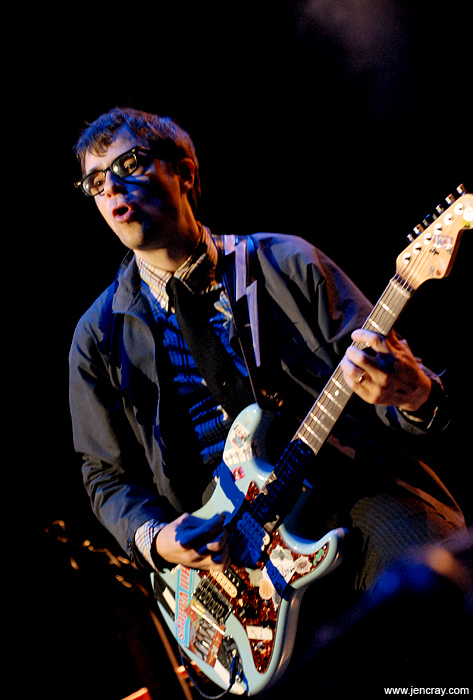 With a band like Weezer, though, the "geek" works. It's charming, like watching frontman Rivers Cuomo kick around a soccer ball onstage as a warm-up while his crew gets things set. He looks like a little boy dressed up in his father's suit, and is very concentrated on the ball, ignoring calls from the crowd of "Hey Rivers! But something about this scene is just precious in its innocence.
Soon Cuomo is joined by Patrick Wilson, Brian Bell, and Scott Shriner, who joined the band in 1995 after Matt Sharp left to form The Rentals, and they strum their way into "Memories" before time traveling their way backwards through a greatest-hits set that includes "Hash Pipe,""El Scorcho," and the rarity "Susanne" (originally a b-side to "Undone – The Sweater Song"). During the instrumental "Burndt Jamb," Cuomos took to the audience, giving high fives as he did a large circle all the way back to the center bar before making his way back up onto the stage.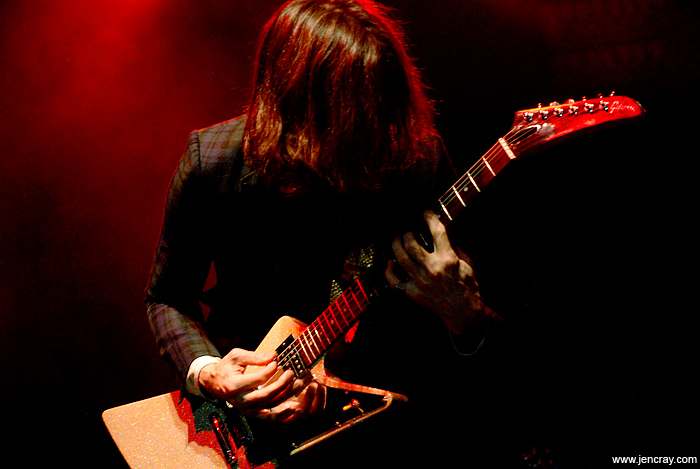 Weezer is a band whose onstage playing is as perfected as if they were in the air-conditioned confines of a studio. The biggest difference between listening to the albums and seeing them in the flesh is seeing how much more of a Rock Band they are, guitarist/keyboardist Brian Bell, especially. He may look like George Harrison, but when his hair shags down over his face and he leans over his Gibson, he could be playing in a metal band.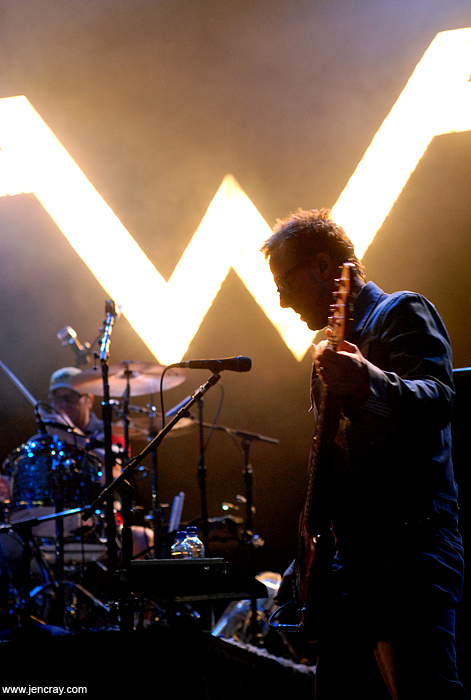 The audience was eating it all up, BUT it wasn't until they hit the final few songs in this first set that the crowd started throwing the words back at the band with fervor because, really, their last couple of albums have left much to be desired.
An intermission came with a short slide show narrated by Karl Koch, the band's historian/roadie/unofficial fifth member/Andy Dick look-alike. Old photos, gig flyers, and press clippings (including the band's first review – where a critic panned them as Nirvana wannabes) were splashed up on the screens as everyone shuffled around for a better view or a spot where the vocals sounded less muddied.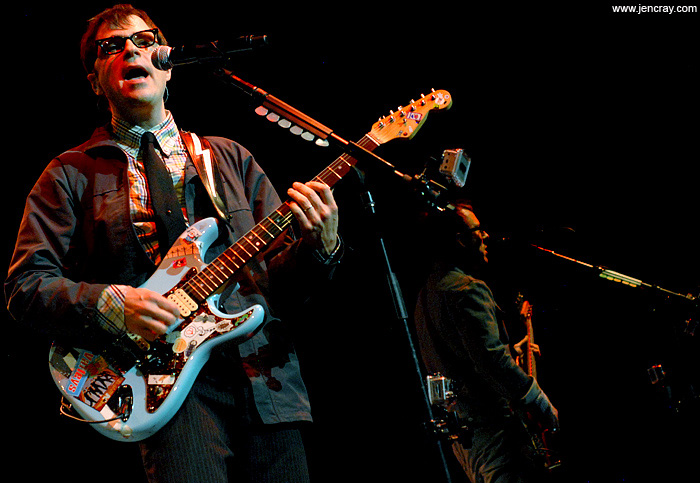 Set two was the one that sold the tickets. Those ten songs, starting with "My Name Is Jonas" and ending with "Only in Dreams," were a celebration of the perfectly crafted pop song. The simplicity of four-minute songs about love, surfing, playing in a garage band, and – yes – being a bit of a geek are more than enough to conquer a Saturday night.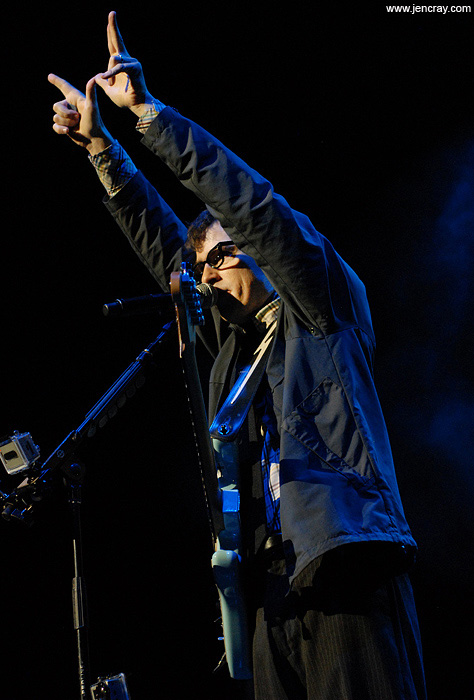 Everyone knows this album's hits ("Buddy Holly,""Undone – The Sweater Song," "Say It Ain't So"), and we all got our rocks off singing them until our throats stung, but hearing the other songs, the ones that don't always make the cut for the concert setlists, those were pretty damn special to hear. "The World Has Turned and Left Me Here" and "Surf Wax America" get my vote for most underrated songs on this hit single-heavy debut. Pinkerton, to be given its due the following night, may be the band's cult favorite amongst many fans, but the Blue Album is forever mine.
Thanks for the memories, Weezer and Ash.
Gallery of live shots from this show: Weezer and Ash.
Weezer: http://weezer.com • Ash: http://ash-official.com ◼
---