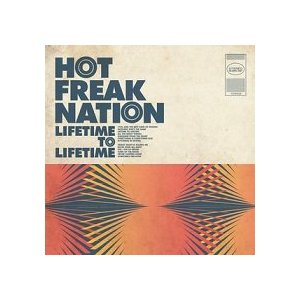 Hot Freak Nation
Lifetime to Lifetime
Trashy Creatures Records
Were these guys really with Arthur Lee's Love? Serious? Not according to the wiki, but as I listened to this wonderful collection of power pop tunes, it seems completely possible. No matter where these guys originated, they write the sort of crisp and compelling ballads that are Top 40 radio friendly, if there was such a thing as Top 40 radio anymore. Sure, you can synthesize anything you want on Pandora, but where's the screaming DJ? Where's the payola? What fun is there to be had from a search engine picking your music?
We might as well start with title track: "Lifetime to Lifetime." It opens with a little guitar line of happiness, then drops into a darker chord structure with Don Main's smoky voice philosophizing over… yeah, she left him. Deep down we know she can do better, and he ought to clean up his act, but that's our friend Don singing at us. We need to support him. It's that kind of song, and he SELLS it. The next track is the "approved for posting" one, "All the Right Things," and it features a more electrified guitar, interesting but not obsessive hooks, and Don is happier, she's whispering all the right things, nudge, nudge. Poor girl, she has no idea. Finally, let's tour "12th of Never," another pop tune with a bluesy back beat and Mersey beat chorus. There's a nice mini guitar solo played in a reverb-heavy channel and vocals that would fit right into a Monkees' re-release. It's all pop heaven.
These boys drip Memphis credibility, and the blood of pop lyricism flows in their strings and in their veins. This is the kind of pop music you can grow into.
Trashy Creatures Records: http://trashycreatures.com/artists/hot-freak-nation • Hot Freak Nation: http://hotfreaknation.bandcamp.com
---