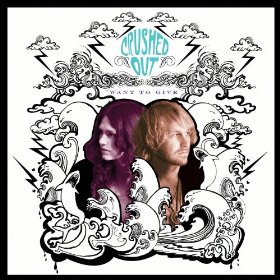 Crushed Out
Want to Give
Cool Clear Water Records
Hippies! Yeah! The sixties never really left, and occasionally an exciting two-piece like Crushed Out reminds us that behind the patchouli and body odor there was some exciting music coming out of all the free love and hallucinogenics.
Crushed Out consists of Frank Hoier crooning over his hammering guitar and Moselle Spiller banging on her drums. If that sounds a bit like White Stripes, well, you're right. This duo comes up with that same sort of punchy, in your face rock that has no time for overdubs or AutoTune. It gets down to the job and makes violent love to old school surf riffs and the demonic punk rhythms that underlie socially responsible love laments.
I must admit that not every band in the year of our lord 2012 that puts the word "surf" on its Bandcamp page should risk going to the beach, but the excitement of the old Dick Dale sound is here. I recommend "Shark Bite," which features a rolling drum sound with cymbals crashing down like a big wave breaking on a small beach. Don't eat the rocks and to hell with sunscreen; let's just watch this duo show off!
Crushed Out: http://crushedoutmusic.com
---