Concrete Blonde
Irving Plaza, New York City • December 13, 2012
May Terry
Johnette Napolitano of Concrete Blonde is one of the most underrated female rock singers of the last 30 years. So say many fans who remember the L.A. trio's hits from the early 1990s.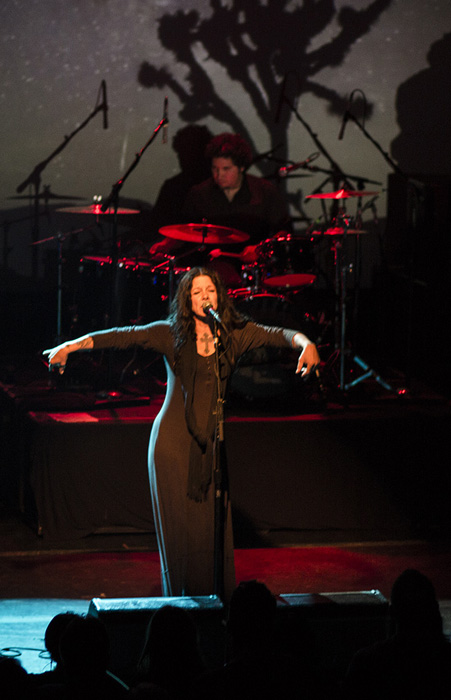 It's because she's gifted with that deep and powerful voice that ranges from an emotive, but soothing, low whisper to a roar that unapologetically punches right through your chest and rips your heart out at will. So when I found out the alternative rock trio was playing at Irving Plaza, I jumped at the opportunity to hear it for myself.
The show starts with a slideshow of Mohave Desert pictures that scroll on the back wall of Irving Plaza; a bluish hue washes over guitarist James Mankey and the Blondes' current drummer, Gabriel Ramirez. The spotlight shines on Napolitano, at the mic wearing a long black dress with her deep black hair over her eyes as she sings the somber ballad, "Rosalie."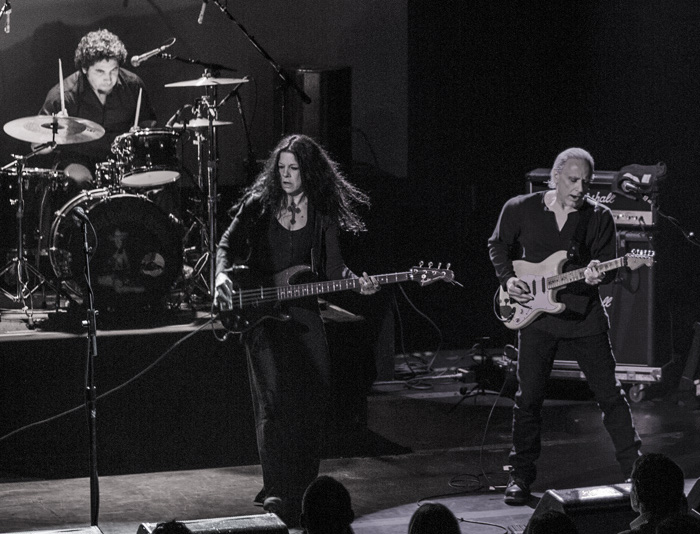 Mainstream radio songs followed back to back with "Joey," "God is a Bullet," and their cover of Midnight Oil's "Beds are Burning." Thank goodness the radio-play songs are out of the way, because then the music gets a lot more interesting. "I See the Ghost" goes back to their punk roots with great guitar work from Mankey and tight rhythms from Ramirez. Songs from Napolitano's work outside of Concrete Blonde were included with "Damage I've Done," from her mid-1990's collaboration with The Heads (aka: The Talking Heads without David Byrne).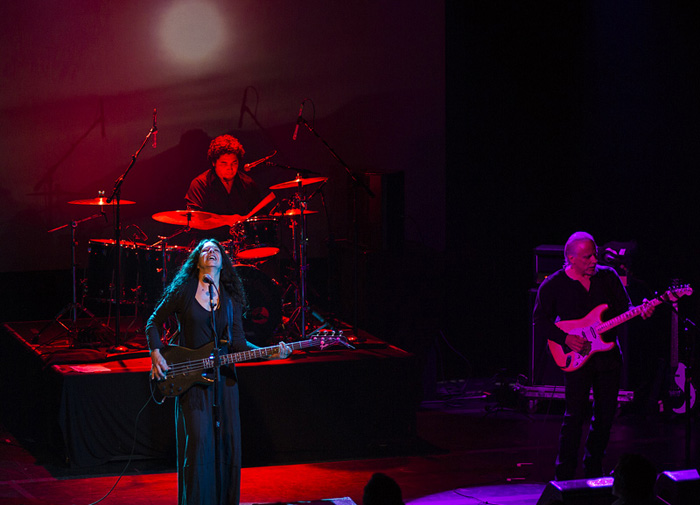 Napolitano is a no-nonsense hardened rock musician who, as she said during the set, is "too old to give a shit." After the cover of Leonard Cohen's "Everybody Knows," Napolitano, in a surprising moment of eccentricity, started pointing people out and reprimanded them to turn off their smartphones. She followed up with a brief soapbox monologue about missing the song when you're too busy taking a still picture – "Respect the artist!" she exclaimed with conviction. Half the crowd cheered, while others were taken aback and perplexed, or annoyed. This explains why, looking down from the balcony where I camped out, I literally saw security placed in different corners of the room looking for smartphones and weaving their way into the crowds to turn them off. I have never seen Irving Plaza so dark, with only stage lighting silhouetting the listeners, and not a sea of raised arms with smartphones.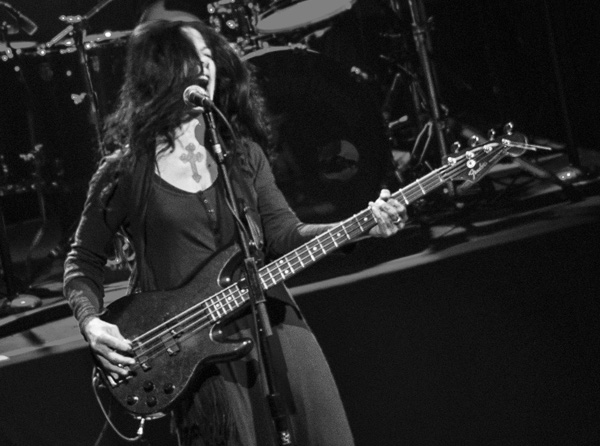 I found myself appreciating someone who's still rocking while sharing her continuous search for artistic re-invention and self-expression. Since her move out of L.A. to Joshua Tree (a barren town in the Mohave Desert within three hours of L.A.) quite a number of years ago, Napolitano has gradually explored other areas of artistic expression: sewing her own clothes, mixed media art, short films, tattooing (including the ones she's self-tattooed on her legs), and flamenco dancing. A watchful eye will see that she blends all of these aspects into her show (sorry Mankey and Ramirez… we all know it's basically her show).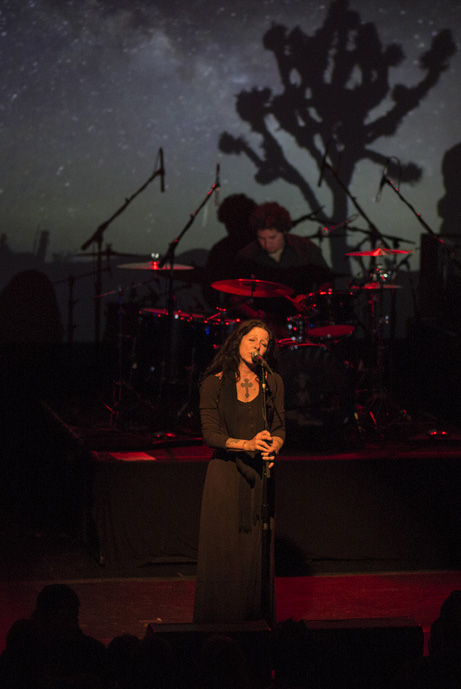 And it's clear to me that Napolitano's not ready to go radio silent just yet. The power of her voice towards the end of "Take Me Home" or the chorus in "Heal It Up" shows me that her voice is still drop-dead amazing. And the band's total rock-out on "Ghost of a Texas Ladies Man" (also one of those little known songs, released on 1992's Walking in London) was the tightest song in the whole set, played towards the end of a set that had over 22 songs.
If you're even remotely a fan of bands with a strong female rock singer, then it would be a crime not to hear Concrete Blonde performing live. It's just a shame that they're rather selective about where they play these days. So while you're petitioning to get Concrete Blonde to play in your town, check out some of their great recorded live performances, like Live In Brazil.
Concrete Blonde: http://concreteblondeofficialwebsite.com ◼
---