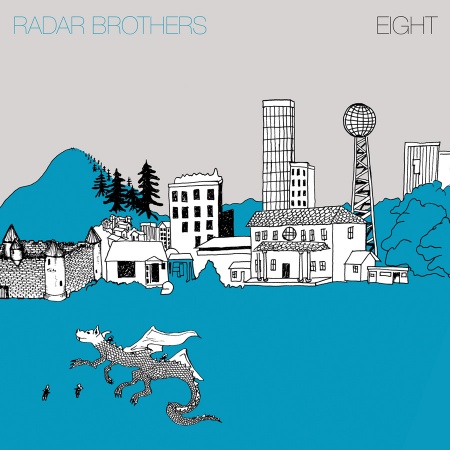 Radar Brothers
Eight
Merge
When the Radar Brothers are in peak form, as they were throughout the vast majority of And the Surrounding Mountains (2002) and have been on isolated tracks since, they are capable of creating music that evokes something close to ecstasy. In these rarefied sonic spaces, which exist for no longer than a typical rock song or sometimes even a chorus, the listener is suspended amid a grand collision of the bittersweet and the beautiful; whatever magic they contain is at once enveloping and inspiring, immediate and ageless.
Three albums ago, with The Fallen Leaf Pages (2005), there were signs that peak form was proving more elusive than it had been on the three releases that preceded it. Creative atrophy had set in, followed by discontentment and frustration, qualities that became manifest in the monotony of the material and the subsequent departure of founding members Senon Williams and Steve Goodfriend soon after Auditorium arrived in 2008, which left frontman Jim Putnam alone to decide to carry on or call it quits.
Then came The Illustrated Garden (2010), and with it signs of new life. At the time it seemed more than coincidental that the introduction of bassist Be Hussey and drummer Stevie Treichel, subtly acknowledged by a slight name change from Radar Bros. to the more expansive Radar Brothers, had come alongside tracks like "Chickens" and "For the Birds," some of the band's strongest output in years. But there had been moments of promise before, songs like "Dark Road Windows" and "Warm Rising Sun," which, as would become evident in retrospect, were precisely that – mere moments, fleeting delights – and hadn't been direct precursors of a forthcoming return to peak form at all. Instead, they were lingering embers of a fire that had blazed in an increasingly distant past.
With the Radar Brothers' latest LP, however, it's clear that the highlights of Illustrated Garden weren't flukes. They were preludes to the magnificence of Eight, on which Putnam, Hussey, and Treichel, along with a trio of newcomers, Dan Iead (guitar, pedal steel), Brian Cleary (keyboards), and Ethan Walter (piano, synthesizers), appear to have cast off all fetters and allowed themselves to drift uninhibited into a cosmos of possibility.
The essence of the Radar Brothers is still there – Putnam's thin, wavering falsetto; recurring lyrical motifs like forests, friends, faith, mythology, and death; backdrops of sleigh bells and droning synthesizers – but these familiar elements are now augmented by the exhilaration of exploration, which helps to make their sonic spaces roomier, more elaborate, less predictable, and more consistent throughout. The high water mark is "Ebony Bow," unmistakably Radar Brothers, but also, in a word, trippier. When the chorus and outro hit, so do the prickles of ecstasy. Guitar notes arc across the cupola like shooting stars. Keyboards drench the scene in exuberant, Van Gogh-like swirls. And the vocals swell into a melancholic choir.
"If We Were Banished" is Putnam's Paradise Lost, and aspires to the same epic level within the limits of its four-minute running time. A high-pitched keyboard accompanies the singer's wispy vocal notes like a bouncing karaoke ball. Then comes a shoegazer wash of guitars underpinned by a drum machine loop. And that in turn is followed by the thundering thwack of Treichel's Albini-style drums as Putnam broods on a singalong mix of Cartesianism and an Edenic fall from grace: "To know you are Adam/ To you know you are."
If album openers are typically manifestos, "If We Were Banished" rightly declares Eight to be musically ambitious without abandoning the languorous reverie that has defined the band's sound since the early EPs in the late '90s. There are fewer philosophical flashes of that same reverie in songs like "Couch," which begins with Putnam reminiscing about a slipper dog named Henry ("Some things, they hurt his brain"). But the ambition and ecstasy are still there, delicately stitched into the verse sections, where a reversed guitar track fades in and out behind a twangy, countrified melody, and the chorus, during which Iead's weepy pedal steel dips and soars over Hussey's thudding bass.
"Change College of Law" is one of the most psychedelic songs in the band's repertoire. In the way it darts from an almost monastic meditation to a transcendental catharsis, it wouldn't be out of place on an album by The Church. And though "Disappearer" (not a Sonic Youth cover, sadly) is perhaps the most classic-sounding Radar Brothers track on Eight. This is thanks in part to its rapturous chorus framed by meticulous piano notes. It is right at home with the brawny, distorted blues rock of "Angler's Life."
In its standard vinyl and MP3 formats (CD, we hardly knew ye), Eight will close with "Horse Down," an exquisitely beautiful act of drawing of the blinds on the fading sunlight ("It's going to be a long night ahead," Putnam sings several times in refrain). The iTunes version of Eight comes with two bonus tracks: "Maggie" and "Monkey Deck." While not essential ("Maggie" sounds like a holdover from 1999's The Singing Hatchet, and "Monkey Deck" would make an acceptable B-side), at the very least they serve to prolong an album that many listeners, I suspect, will never want to end.
Radar Brothers: http://radarbros.com
---