Bad Religion
with Polar Bear Club, The Attack
House of Blues, Orlando, FL • March 17, 2013
Jen Cray
There's a consistency to shows by bands that are getting gray around the edges that borders on predictable, but Bad Religion (birthdate: 1979; discography: 16 albums) manage to turn the expected into an enjoyable experience.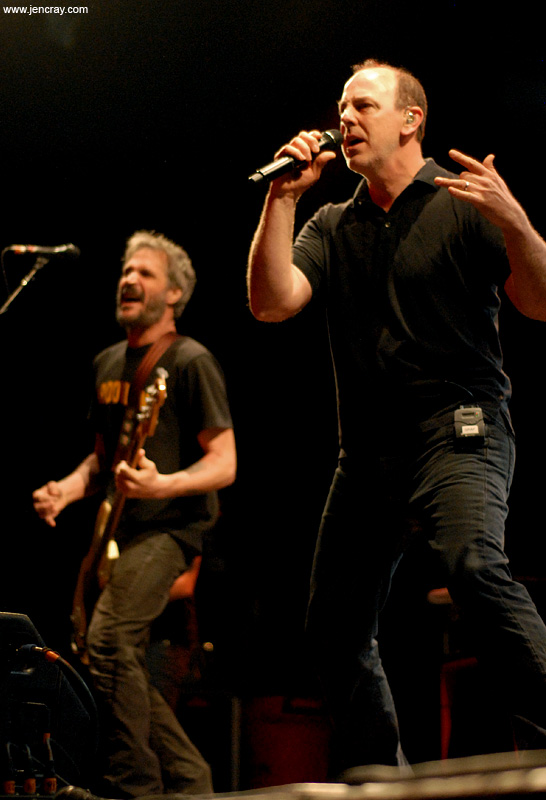 With a setlist that takes up three sheets of paper (the plight or promise, depending on your point of view, of the three minute punk song), there are bound to be a few surprises mixed in with the fistful of songs that have always been, and will always be, played.
The night's first surprise? The inclusion of local band The Attack as the opener. A little background on this tour: two weeks before the show, main support act Against Me dropped out (due to the lack of a drummer), leaving a large hole in the bill that now offered only Polar Bear Club as opening act. The band was such a selling point for this show that signs at the venue's box office offered refunds and apologies for any fans that had purchased tickets specifically to see Against Me.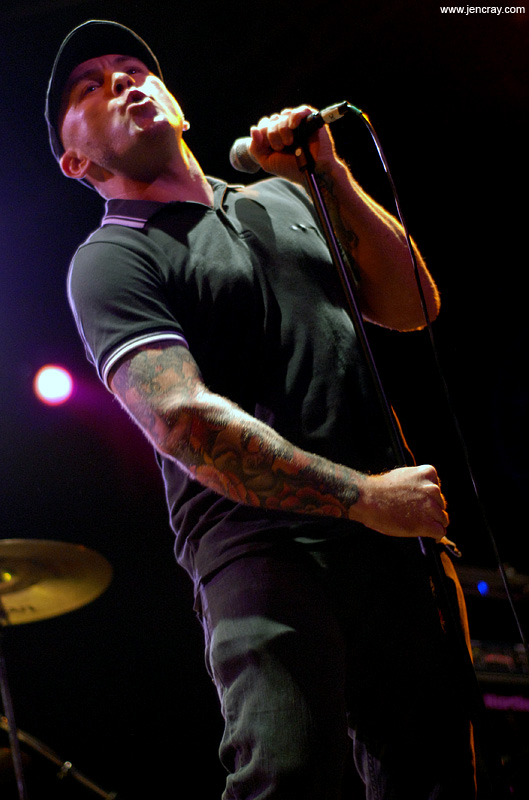 Enter: The Attack – an Orlando staple who have played and practiced themselves into auto-pilot. They play melodic hardcore that sounds old enough to satisfy those fans in attendance whose tastes were formed around the sour bite of Lifetime or Agnostic Front. The band is tight, almost too tight. There's no spontaneity to their performance. A cover of Beastie Boys' "Time For Livin'" was a nice touch, but, like the rest of their set, lacks the fire to really ignite the room.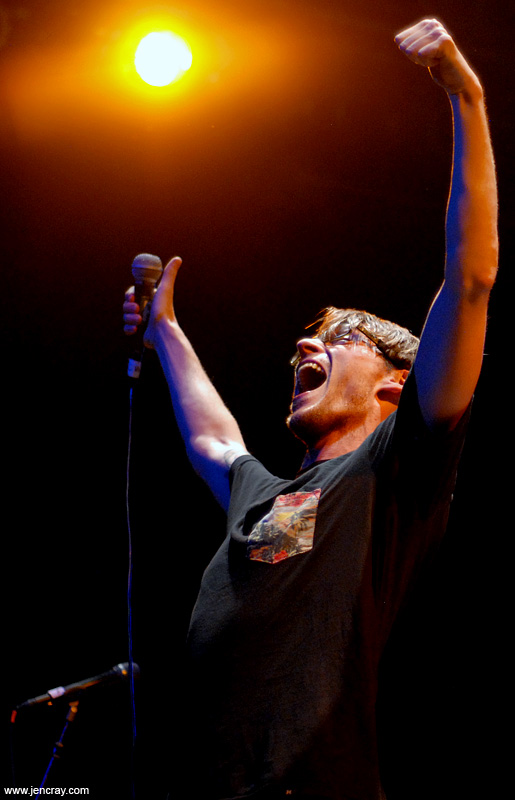 With Polar Bear Club, I can always expect to be entertained, even if their music doesn't leave much of a lasting impression. Singer Jimmy Stadt has that manic hot potato presence that is fun to watch, despite the emocore he screams along to. Jump splits and toothy grins highlight their set with exclamation points. The lanky, bespectacled Stadt carries the band on his narrow shoulders, serving as the sole focal point, save for the impressive sweat that dramatically flings from bassist Erik "Goose" Henning's brow. I've seen these guys a number of times and yet I couldn't pick their song out of a lineup. Ah, well, they do their job and they wake us all up, even get the beginnings of a pit going.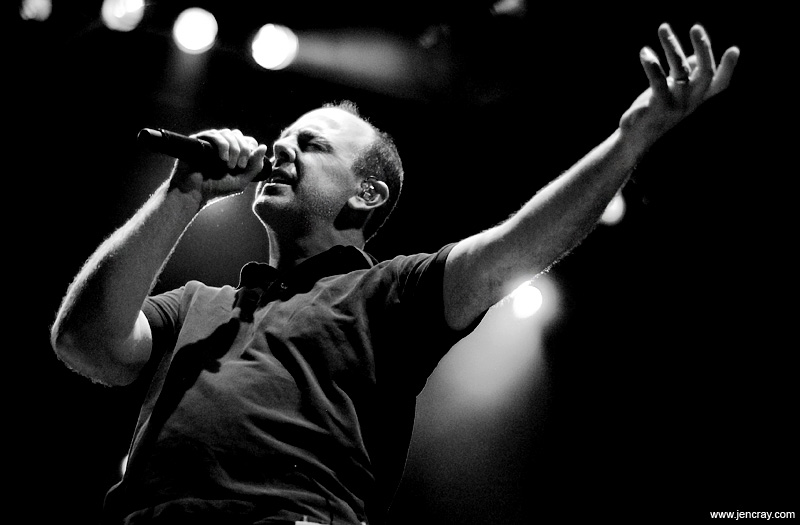 The touring version of Bad Religion, these days, consists of most of their core members (Greg Graffin on vox, Jay Bentley on bass, Greg Hetson and Brian Baker on guitar), but they had a fill-in on drums in the way of Polar Bear Club's Steve Port. If there was any anxiety in having to learn the drum parts to 30 songs (told ya the set list was long!), it didn't show. Also not showing: the age of this band. If not for the receding hairline of Graffin and the salt and pepper (that's mostly salt) of Bentley, the passage of time would not have poked its in head at all.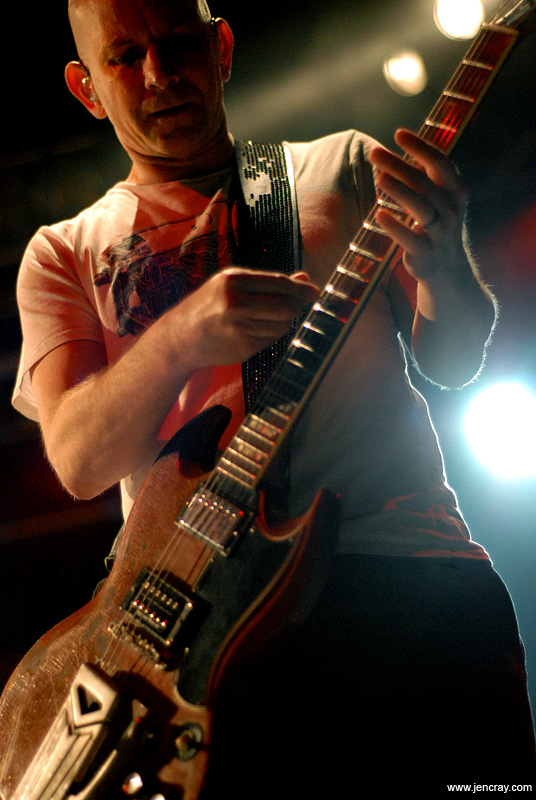 In fact, some of their songs feel more modern now than when they were written decades ago. Take "21st Century Boy," with its chorus of Cuz I'm a 21st century digital boy/ I don't know how to live but I've got a lot of toys/ My daddy's a lazy middle class intellectual/ My mommy's on valium, so ineffectual/ Ain't life a mystery?. That was written in 1990 – long before our society had gadgets coming out the yin yang to distract us from the reality of our lives and waaaay ahead of its time!
On the topic of gadgets, I must acknowledge the lack of digital toys in the House of Blues audience for Bad Religion's ample set. You can't hold a smart phone, steady above your head, for the length it takes to video an entire song when you're busy running a pit, or riding across outstretched arms. Cameras were kept in pockets (mostly), cell phones were ignored, and the audience lived in the moment. That is something to be recognized and commended! Those on the floor, in and out of the pit, were not seeing a band that's been doing this for over 30 years; they were participating in a Bad Religion show.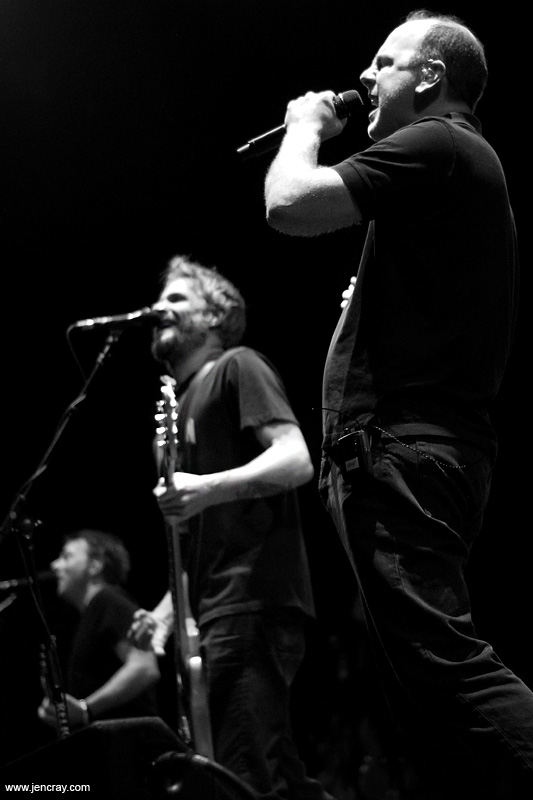 Even the new songs off of the just released True North ("Past is Dead," "Fuck You," "Robin Hood in Reverse") were met with pounding fists and screamed-along choruses. The responses didn't quite measure up to the classics that bear the weight of nostalgia like "Do What You Want," "I Want to Conquer the World," or the encore of "Infected," but a song still in its infancy can't possibly compete with decades worth of mileage… but give these new songs a few years, and they'll stand the test, just like the band has.
Galleries of live shots from this show: Bad Religion, Polar Bear Club, and The Attack.
Bad Religion: http://www.badreligion.com/ ◼
---