Wanee Music Festival 2013, hosted by The Allman Brothers
with Widespread Panic, Gov't Mule, Tedeschi Trucks Band, and lots more!
Spirit of the Suwannee Music Park, Live Oak, FL • April 18-21, 2013
Phillip Haire
As I arrived at the ninth Wanee Festival, the familiar sights and aromas quickly embraced and welcomed me – a promising sign for the upcoming weekend! I missed last year's shindig, so I eagerly set up camp Wednesday afternoon to be primed and ready for all the action.
Although I missed the likes of Juke, Beebs & Her Moneymakers, Groves, Kettle of Fish, and Cope, reports were glowing for all as they got the party going! Long-time regulars Dumpstaphunk closed the evening with an always-delicious mix of original material and a set of cover tunes. This year, we were treated to interpretations of funk legends The Meters. They cranked out killer versions of "Funkify your Life," "Chicken Strut," "People Say," and "Cabbage Alley," to name a few. I knew straightaway we were in for a hellacious Wanee.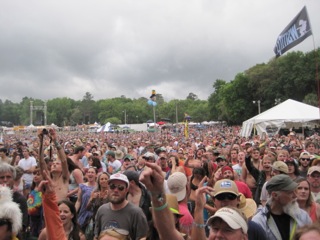 Thursday's action was limited to the smaller Mushroom stage, a nice diversion from commuting to and from the Main Stage. Here, we were treated to phenomenal British guitarist Oli Brown, San Fran groovers Monophonics, and founding member of the Codetalkers, Bobby Lee Rodgers, now fronting a trio. Rodgers may get the "Ironman" award this year, playing some seven times between the traveling stage, which cruises areas of the campground, and regular stages.
The spirit of New Orleans and its diverse musical styles is always evident at Wanee, and this year The Voice of the Wetlands Allstars certainly represented with Tab Benoit ripping on guitar, while Cyril Neville, Waylon Thibodeaux, and Jumpin Johnny Sansone kicked in their own talents. Guest Mickey Thomas joined in for the Elvin Bishop classic "Fooled Around and Fell in Love," and Big Chief Monk Boudreaux blessed the proceedings, donning elaborate yellow plumage. Cyril Neville performed a double-header, joining his other project with Devon Allman, The Royal Southern Brotherhood. Lynyrd Skynyrd drummer Artimus Pyle joined in a few tunes, and father Gregg Allman joined the Brotherhood for three songs. I had to make some tough decisions this year as to which end of the talent pool I would swim, old or newer school.
Many times over the years, I opted for newer bands, often regretting turning my back on legends. Luckily, tonight I didn't have to miss Hot Tuna's electric set. True godfathers of electric blues, Jorma Kaukonen and Jack Casady have been getting it right for fifty years, and tonight they didn't disappoint! Their hour-and-a-half set included "I See the Light," "Hesitation Blues," "Bowlegged Woman," and "Funky #7." Jack Casady celebrated his 69th birthday onstage with a birthday cake presentation and thousands singing to him. Late night honors were appropriately designated to Greyboy Allstars. Karl Denson and company kicked the jazzy grooves until early Friday morning.
Friday's acts took to both Mushroom and Peach stages and commutes/decisions now had to take effect. Sadly, two up-and-coming New Orleans bands, Flannel Church and The Revivalists, slipped through my hands. I received excellent reviews for both. Meanwhile at Peach Stage, Blackberry Smoke was busting out some killer Southern rock from their The Whippoorwill album plus a couple new tunes from an upcoming release. Robert Randolph cranked it up next with a rousing rendition of "God Bless America" and a tribute to the citizens of Boston. Several bands made a point to send out good wishes to those dealing with the recent bombing tragedy.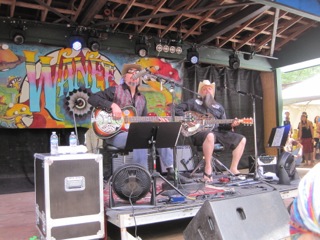 Moving back to the Mushroom stage, I wanted to witness the shenanigans of Les Claypool's Duo De Twang, one of his many projects aside from Primus. The other half featured Bryan Kehoe, apparently a friend since high school, as a suitable comrade. Les was quite amicable sharing many anecdotes and his ever-humorous ramblings. Oh yeah, they played some music too! Jerry Reed's "Amos Moses" kicked it off and meandered into some Johnny Cash "Cocaine Blues." Warren Haynes showed up and proceeded to jam on "Battle of 1812" and a couple others. He made a special request for "My Name Is Mud," and Les nearly obliged, starting the intro a few times. But alas, it was only a teaser. Obscure Canadian country artist Stompin' Tom Connors was revived in the "Bridge Came Tumblin Down." "Hendershot," "Winona," and "D's Diner" were also included. Warren quickly departed for his set with Gov't Mule.
A guaranteed Wanee favorite, Gov't Mule rips it up in any venue! This set was special as it featured some new material I assume will be part of their upcoming record, Shout. We were also treated to "Outta Shape," "Captured," and an epic remake of Neil Young's "Cortez the Killer," with the help of Widespread Panic members. My ride with the Mule meant I missed North Mississippi Allstars' set which surely kicked ass! I know Butch Trucks, Otiel, and Robert Randolph sat in, and the cheers from that stage assured me it was awesome.
One of the many benefits of the festival format is exposure to new talent. The duo Boombox is a blend of technology via DJ-generated beats and rhythms and a guitarist/instrumentalist cranking out a unique mix of psych/funk/rock which worked in beautiful synch to get the crowd bouncing. Check 'em out!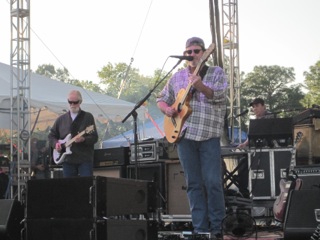 Co-headliners Widespread Panic took the stage for the first of their two sets. Having been absent from last year's lineup, the WSP faithful and others were eagerly ready for what was in store. Unfortunately, as their set began, so did the rain. We weren't deterred, however, as "Ain't Life Grand" was our call to action. WSP also blazed through "Disco," "Space Wrangler," and Warren Haynes-assisted covers of "Jesus Just Left Chicago" and the seminal Funkadelic "Maggot Brain" to wrap the set.
Host band for Wanee, The Allman Brothers, brought numerous covers to the first of their two sets. Dr John's "I Walk on Guilded Splinters," Muddy Waters' "Trouble No More," and the Beatles' "Rain" all got the special Allman treatment! WSP's John Bell and Artimus Pyle joined on Blind Faith's "Can't Find My Way Home." Jimmy Herring wouldn't be left backstage, as he lent his guitar to "In Memory of Elizabeth Reed." The Dickinson Brothers (Luther and Cody) helped on encore "One Way Out."
As for Friday late night, two words… Steel Pulse! Although the rain was pouring down, the crowd was definitely up for the British reggae legends dropping hit after hit like raindrops. My friend, let's call him "Bobby rock-star," generously got me side-stage to check the action up close, dry, and personal. Pulse, nearly forty years since inception, still brings it like groups half their age! Much of their success came in the early to mid eighties and many of those tunes were represented this night—"Rollerskates," "Worth His Weight in Gold (Rally Round)," "Steppin Out," "Chant a Psalm," and "Ravers" showed David Hines still full of energy with fellow founder Selwyn Brown and a phenomenal backing band. We all drifted into the rainy evening feeling irie.
How about yet another day of amazing music? Wanee delivered on "main event" Saturday, 4/20 that is, with a solid line-up of legendary performers. The weather cleared in the early morning, tents dried out, and blue skies set the backdrop on a gorgeous Live Oak day.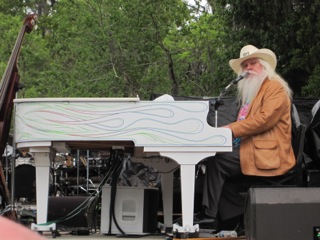 Elder statesman, Leon Russell steps up first bringing a musical resume' that spans fifty years. I was pleased to see him in seemingly good health and quite genial. Telling us of his beginnings in Oklahoma bars (pre-liquor laws), at age fourteen and listening to Ivory Joe Hunter, tales of sitting in with The Flying Burrito Brothers, etc. His vocals crisp and band well assembled, the tunes flowed like honey—"Rollin in my Sweet Baby's Arms," "Let the Good Times Roll," "Wild Horses," "Georgia on My Mind," his signature "Tightrope," and final medleys "Jumpin Jack Flash/"Papa was a Rolling Stone"/"Paint it Black to "Great Balls of Fire"/"Roll Over Beethoven." Whew!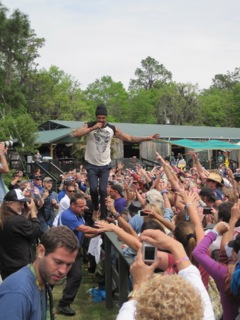 Michael Franti and Spearhead brought his ever-positive vibes to the afternoon crowd at Peach Stage. I am awed at Franti's ability to instantly connect with thousands and have them bouncing within minutes. Franti also celebrated a birthday this Wanee, complete with cake and party hats! After some brief revelry, it was back to business and getting close to his fans by tight-roping the security gate and venturing out into the crowd to bring the music to the people.
I, however, had to make the break to FUNK USA at the Mushroom stage in the form of James Brown's right hand man, lieutenant of George Clinton's Mothership, Maceo Parker. This was a legend I wasn't going to miss, and as he stepped on stage chanting "P-Funk wants to get Funked Up" dressed in a custom-made suit, it was game on!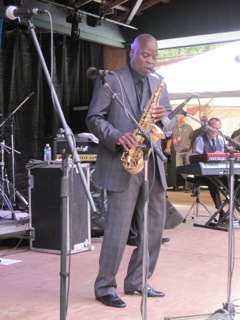 Maceo did it all: boogied all over the stage telling us to "give up food for funk," lamenting about his days with "Mr. James Brown," and busting into a beautiful jazz number then informing us that's NOT what they play! What they do play is "Papa Don't Take No Mess," 'Pass the Peas," and more. We found Maceo's band to be a family affair, as his nephew is the drummer and niece a vocalist. She blew up on "Stand by Me" with soulful pipes to rival Uncle Maceo!
On the heels of Maceo, another band forty-five years in the business, Tower of Power, came out and kept the soul and funk kicking for already-charged masses. "Soul with a Capital S," "Funkify Your Life," TOP's seventies hit "What Is Hip?" and "Diggin on James Brown" made the mantra clear – Get off your Ass and Jam! Many props were given to Maceo during their set, including their finale, "You're Still a Young Man."
I got a brief taste of Giant Panda Guerilla Dub Squad 's cool, party styled roots and Tedeschi/Trucks powerful vocal/guitar delivery on gems like "Rollin and Tumblin," "Bound for Glory," and "Sky Is Crying." I would love to have seen full sets, but not in the cards this year. I have been fortunate to see Tedeschi/Trucks along with Yeti Trio, The Lee Boys, and Dirty Dozen Brass Band at previous festivals. All are amazing talents and I encourage you to see them live or give a listen. I am sorry to have missed their Saturday performances.
But the beat goes on, and next up was Widespread's second outing. Opening in much nicer weather with "Imitation Leather Shoes," I felt this performance might eclipse the previous night's. I don't think I was denied, as Panic moved forward with "Party at Your Mama's House" and "I've Been Workin'," bringing Susan Tedeschi and Derek Trucks into the fray. Derek hung around to jam on "Goin Out West," then left WSP to close the Wanee weekend with a scorching version of "Fishwater."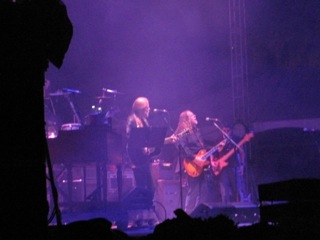 The Allmans, in my opinion, brought one of the most inspired sets I have seen in a while. Saturday's set cut into the heart of their catalog. A small sampling of the set includes "Whipping Post," "It's not My Cross to Bear," and the always-moving "Melissa," Gregg's only departure from his organ. Additionally, they played "Long Black Veil," both versions of "Mountain Jam," and many other Allman classics, and culminated the two-hour performance with "Southbound."
I haven't heard any attendance figures for this year's show, but I have never seen the field so packed as this night. Tens of thousands experienced another amazing weekend with the hardest working band in rock and roll!
I had one last gasp of energy to trudge across the field for Galactic and friends in the final event of the weekend. Galactic's energy and groove was a fitting way to round out a stellar weekend. Their first "friend" was none other than vocalist David Shaw from The Revivalists, who made quick work of re-energizing us into a frenzy on "Ain't No Love," "Baker's Dozen," and great covers of "I Am the Walrus" and ODB's "I Got Your Money." Shaw exited stage right and made room for another guest, Papa Mali. Although he's been around Wanee a lot over the years, I believe this was his only spot in 2013, so there was no messing around as "I'm a Ram," "Ooh Nah Nay," and Galactic staple "Crazyhorse Mongoose" got the "Papa treatment." Shaw returned for two encores, "Does it Really Make a Difference?" and a fitting end to Wanee, Zeppelin-style, "When the Levee Breaks."
By that point (2am), everything and more that you have read about was breaking down on me. Exhausted and ears abuzz, I curled up one last time and reflected on the fantastic people I met, the unparalleled amount of talent, and an appreciation of why Wanee is so special.
Lastly, kudos to the organizers and staff of this huge event for their efficiency, execution, and maintaining a safe environment for us all!
Wanee Festival: http://waneefestival.com ◼
---