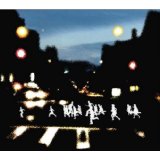 The Scenics
Dead Man Walks Down Bayview
Dreamtower
Upbeat pop – I can't get enough of it! This reunited band was a spark plug of the old Toronto scene, and then disappeared to wherever old punks go to hibernate – real-estate school, perhaps. Andy Meyers and Ken Badger are back together, and this full-length collection is an exciting mash-up of country-folk and rockabilly-influenced power pop with the mandatory indie rocker DIY sensibility.
"Working in a Dark Cave" might refer to a cubicle job or mushroom farming, but it telegraphs that there's still hope in a girlfriend. "Won't you come here and bring me sunlight" is about as positive a thought as we can ever have, and when you pour on a strong hook and a nice chorus, you're in love again, you horn dog. Skip ahead to "A Fox, Her Fur, and Where She Parks It" and we slow down to a more folksy second date. The lyrics are occluded, but there's a crisp guitar under those lines, and we muse "and when the life is gone you still keep fucking on."
Now THAT'S what's missing from that old Eagles/CSNY folk rock of your grandfather's generation: nihilistic sex. Skip ahead to "No Sleep" and it's rockabilly time with some bent chords and zip-zap-zog lyrics. The Scenics enjoy alternating the fast with the slow, so it's hard to drop into either a contemplative mood or a head-banging, rocking-out groove, but nevermind that. This is a delightful and intriguing collection packed with intellectual lyrics about sex, life, and all that good stuff. I recommend this for a road trip or a night full of insomnia; those seem to be the two phases of life I live in this day.
This might be my next fav CD.
The Scenics: http://thescenics.com
---