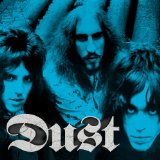 Dust
Hard Attack / Dust
Kana Sutra / Buddah / Legacy
How does one audition for the Ramones? Having played in a loud, fast metal band in 1972 might be a good start, and that's how Marc Bell got into the group as Marky Ramone. His first project, Dust, was short-lived but established his credibility – the sound here is just post-psychedelic; the instruments remain in tune while the vocals (courtesy of Richie Wise) are clean and rather thoughtful. The concept of screaming at the microphone in the studio was still in its formative years, and songwriting still counted back then as they only had a few hundred watts of amplification.
Dust released two albums in 1971 and 1972, neither of which went far. I completely missed them during a lifetime of record collecting and haunting dusty little shops in bad parts of town, but the music isn't bad, no, not at all, and it's worth a listen to see what counted as loud, hard, and fast back in the day.
The press stuff refers to the records as "cult" Items, but Hard Attack has a folksy, hippie/country sound. "A Walk in the Soft Rain" croons "They say the sky is so lonely /It's totally blue" in a pleasant harmony. For proto-metal, you can still slow dance to most of the songs like "Thusly Spoken." There is some faster material; "Learning to Die" and "All in All" both have some nice guitar work and vocals that are a pleasant hybrid of Ozzy and Richie Blackmore. A steel pedal creeps into "I've Been Thinking" and "How Many Horses." Both tracks soar high over Eagles country and what I'm hearing here is not the seeds of punk and metal, but a versatile and competent band with solid skill that allows them to slide between genres. That likely didn't help sales; too much versatility confuses radio stations and record execs and maybe even the general public.
The self-titled second album finds a more conventional hard rock sound. "Stone Woman" is urgent and sexy with a high-flying guitar solo. "Chasin' Ladies" steers the band away from its folk influences to a more sex and drugs life style, and "Love Me Hard" sounds like a Led Zeppelin B-side. There are only six cuts on this second effort, they've gone for a longer FM track style including the nearly 10-minute guitar workout, "From a Dry Camel." This track ranges over the entire Sahara with guitar solos, drum solos, and every showy trick known to rock to enliven this caravan. A space cadet anthem, "Often Shadows Felt," follows. Tinges of Pink Floyd and King Crimson enlighten this work.
I would certainly regard Dust as the better of the two collections and that brings to mind the old adage that a band needs three tries to make a hit disc. Dust only got to bat twice, and maybe if that third disc would have happened we'd all be wearing their faces on our post ironic t-shirts.
Dust: http://dustnyc.com • Legacy Recordings: http://legacyrecordings.com
---