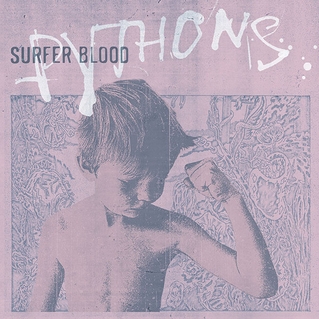 Surfer Blood
Pythons
Warner Bros
It's hard to get out of the shadow of a brilliant debut album. It's even harder to escape the creeping umbra of a domestic violence arrest. Surfer Blood and lead singer John Paul Pitts (whose then-girlfriend ended up dropping the charges) have got a huge black cloud hanging over Pythons that threatens to distract from the achievement of the music.
It's a cleaner sound, with less fuzz on the guitar, but still retains its surf pop/early alternative rock core – thanks, in large part, to producer Gil Norton (whose production credits include just about every Pixies record). While the Florida band have carved themselves a nice niche in between Weezer and The Beach Boys, their sophomore effort – though quite good at times – lacks the lazy afternoon, youthful quality of 2010's Astrocoast. It's a more deliberate record, feeling more of hours spent in the confines of a clean studio rather than the sweaty funk of a garage or bedroom, but the final product is no less imaginative because of it.
Most of the album's strengths lie in the first half. "Demon Dance," "Gravity," "Weird Shapes," and "I Was Wrong" are all solid and singable pop offerings that beg to be placed in playlists. Of the latter half of the record, only "Say Yes to Me" and "Blair Witch" reach out and grab, and not as strongly as the formerly mentioned list of tunes.
Were it not for the billowing clouds that shade the album, Pythons would be a much more successful spin, but try as I might, it proves difficult both to NOT compare it to the band's near perfect debut and to not listen for clues in the lyrics about the details of the young singer physically attacking his girlfriend, most especially when he's screaming the chorus of "I Was Wrong."
Surfer Blood: http://surferblood.com
---