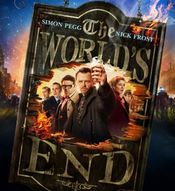 The World's End
directed by Edgar Wright
starring Simon Pegg, Nick Frost, Paddy Considine, Martin Freeman, Eddie Marsan, Rosamund Pike
Focus Features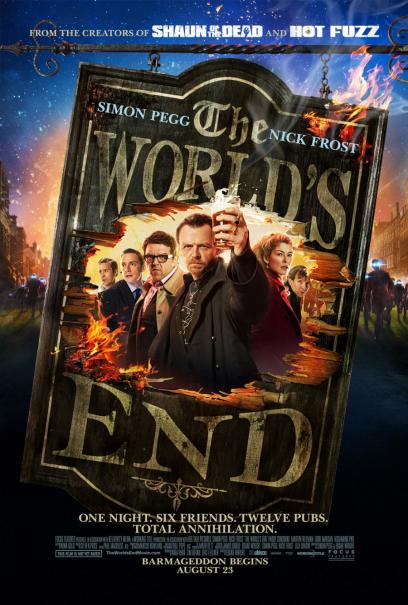 They say that the third time is the charm, and in the case of The World's End this maxim holds especially true. The final film in Wright's Cornetto Trilogy (which includes Shaun of the Dead and Hot Fuzz) sees Wright and his band of merry men in the thick of it with mayhem, chaos, destruction, and plenty of black humor in a genre film filled with oddball turns, interesting characters, and a lot of heart.
Pegg plays Gary King, a brash, rude, and obnoxious fellow who is determined to finish the business of his younger days, namely completing an epic 12-pub crawl called The Golden Mile. King has it in his head that if he completes this bar binge, his life will reset and somehow get better.
Twenty years earlier King and his four cronies tried The Golden Mile but failed miserably. While his mates have shrugged off it off, King has obsessed over it to the point of madness. Thus this failed endeavor gnaws away at Gary, underscoring his life of broken dreams spent living in the past.
Nick Frost plays his former best friend Andy Knightley. The two had a massive falling out after the pub crawl, and King desperately wants his best friend back. Andy, now a teetotalling executive, wants no part of the mischief. Years later he's still fuming when King shows up to his office.
Eddie Marsan plays the timid Peter Page, Gary's friend who is still scarred by youthful bullying. His meek demeanor is no match for the slick-talking King. Known as the O Man, Martin Freeman's Oliver Chamberlain is a reserved businessman with a knack for making things work his way. Paddy Considine is the sensible one of the lads. He plays Steven Prince, a no nonsense adult who is very much living in the real world with a real crush on Oliver's sister, Sam.
King's sheer will puts his gang of friends back together for an evening of alcoholic frolic and urban debauchery in their hometown of Newton Haven. The town ha snot changed much, it's still a pretty urbane place, but it has a lot of pubs and nightlife.
Despite its dull luster and quaint charm, there is something that is not right about Newton Haven. King's friends can feel it, and they know that something is up. Despite their prodding, King is determined to persevere and finish the Golden Mile.
Just as their pub night gets going at full speed, the audience is lulled into thinking they are seeing a coming of age farce about a man living in his past and grasping at straws to cope in the modern world. However all of this changes during a visit to men's room.
It is here where the movie careens into a different direction altogether, shifting gears from a fun comedy into a full on SF/horror throwdown in the vein of Village of the Damned.
The trick works really well as the audience, who by now has become invested in the characters, is sucked into the madness full on. As their night unravels and they become unhinged and unstable, the one thing that still unifies them is Gary's absolute resolve to reach The World's End, the final pub in the Golden Mile. But before Gary and his friends enjoy their last pint and bask in victory they must set aside years of unresolved issues to fight for their lives
Wright's film is a wonderful romp that sees his stars further as actors, fleshing out their characters and challenging audience perceptions. This time around, the company switches things up a bit with Pegg showing a disturbing maturation in his performance while Nick Frost gives a more cerebral and less dopey performance. Martin Freeman (as Oliver) gets to play against type and channel his inner sleazebag.
Without giving much away The World's End is basically two films seamlessly meshed together to create an audacious adventure that draws the best elements of slapstick, physically buffoonery, sight gags, and physical comedy that shy away from being formulaic.
It also doesn't hurt that the movie is layered in music. There's a terrific soundtrack that includes the best of early '90s and holds this ongoing cinematic insanity together with Britpop including Blur, Primal Scream, The Happy Mondays, Teenage Fanclub, and The Sisters of Mercy.
As Wright and his band of merry men drink their way into oblivion, they discover whom they really are: a group of dear friends, separated for far too long by the most implausible yet thoroughly entertaining story imaginable.
---