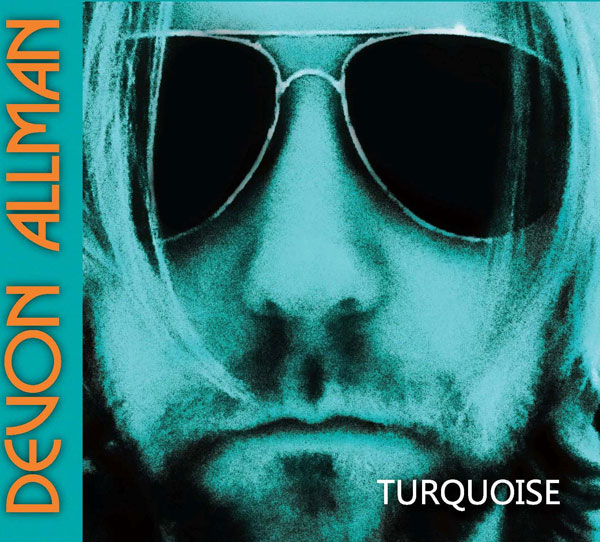 Devon Allman
Turquoise
Ruf Records
Clustered within the scant serving of gems released in 2013, Turquoise tops my list of unwitting finds. A bona fide musical prodigy, Devon Allman was raised in Texas and never even met his father, Gregg, until he was in his teens. Initially, the younger Allman shied away from his family's signature sound, however, he would later embrace it as the natural progression of his far-reaching genes.
In recent years, Allman has released several records and toured the world with his two bands, Honeytribe and Royal Southern Brotherhood. Possessing blistering guitar skills and a rich, powerful vocal range (not to mention, great songs), he has come into his own as a musical tour de force with the release of his solo debut.
Produced by Jim Gaines (who also worked with John Lee Hooker and Santana), Turquoise offers a veritable potpourri of blues-infused, soulful country rock peppered with subtle Latin flavor.
Chock full of personal reflections and life-affirming perspectives, the eleven song set opens with "When I Left Home," a powerful semi-autobiographical story about Allman's rise in the musical world and features Luther Dickinson on lead and slide guitar. "Strategy" is an acoustic-based track that showcases 23 year old phenom Bobby Schneck Jr. on lead guitar. All other selections feature Allman on lead guitar while his Royal Southern Brotherhood bandmate, Yonrico Scott, provides masterful drum and percussion work throughout the album.
Other highlights include Allman originals, such as "Don't Set Me Free," "There's No Time," and "Homesick," all featuring Rick Steff on the Hammond B3. Steff also appears prominently on the cover version of the Tom Petty/Mike Campbell penned classic, "Stop Draggin' My Heart Around" – an engaging vocal duet between Allman and Ruf Records singer, Samantha Fish. "There's No Time" packs the spiciest Latin punch of the bunch, while "Into the Darkness" serves as the pick of the litter and offers a guest, solo saxophonist Ron Holloway.
"Time Machine" simply oozes relaxation and retrospection about how quickly time passes by – "the only apples we had grew on trees" – a brilliant lyric and a beautiful piece. Rounding out the record, "Key Lime Pie," "Yadira's Lullaby" and "Turn Off the World" are a bit more mellow sounding, yet are equally satisfying.
"As the salt water cleanses my soul, gonna wash off some of that rock 'n roll. You gotta slow down some time and turn off the world." Amen, Mr. Allman, amen.
---