Sharon Jones & the Dap-Kings
with Valerie Jones
Beacham Theatre Orlando, FL • February 18, 2014
Phillip Haire
I entered the Beacham Theatre Tuesday evening totally oblivious to the circumstances surrounding this tour. Sharon Jones & the Dap Kings released a new record and are touring in support of it. That's just how it goes, right? Not exactly in this case, but we'll revisit that shortly.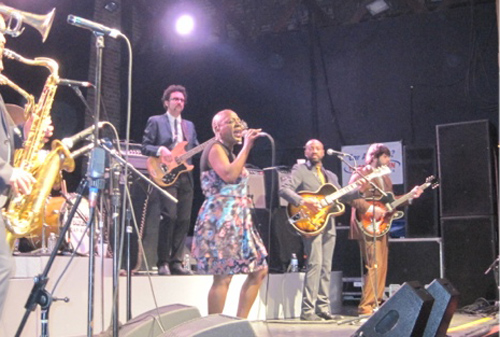 The opening act, Valerie June, surely merits some mention. Self-described "organic Moonshine roots music" is a fitting moniker. A young beauty who looks as if she could have come from the islands, she greets the crowd with her Tennessee-bred drawl, a showering of rose petals from her Valentine's bouquet, and an acoustic guitar. Backed by only a bassist and drummer, June's "organic, rootsy" style was realized. However, it was soon evident June had much more depth. She would incorporate a banjolele ("her baby"), electric guitar, and slide to highlight songs from her full-length debut "Pushin' Against A Stone", a title June feels reflects her struggle to achieve success in the music business. She shows a range of honest, self-reflective music. The lonely "Somebody to Love" or more direct "Workin' Woman Blues" showcase her range emotionally and musically. Dap Kings guitarist, Binky Griptite also joined on rhythm guitar for a couple numbers.
DJ BMF spun some funk, soul, and R&B classics between stage set-ups while we prepared ourselves for the "main event".
True to the soul reviews of old, The Dap Kings take the stage with some warm-up jams and some words of welcome from Binky. Enter Starr Duncan and Saundra Williams, aka. The Dap-ettes, to perform their recent 7" release and get the soul flowing. Both Starr and Saundra had solos, proving they got the pipes to share the stage with Sharon!
The time has arrived – the band tempo picks up, Binky gives a rousing introduction, and Ms. Jones takes center stage. I'm taken aback, as she is bald and gaunt compared to when I last saw her in 2011. After opening with "Long Time, Wrong Time", she then took time to inform us of her recent battle with cancer, delay in touring, and how self-conscious she felt after her hair fell out from chemo. Sharon, undeterred, called out her inner Tina Turner to unleash "I Heard it Through the Grapevine" and in fitting style "Get Up or Get Out" as she "threw" the cancer out of her body. Another poignant moment relative to her struggle, "I'm Stronger" embodies her outlook on life.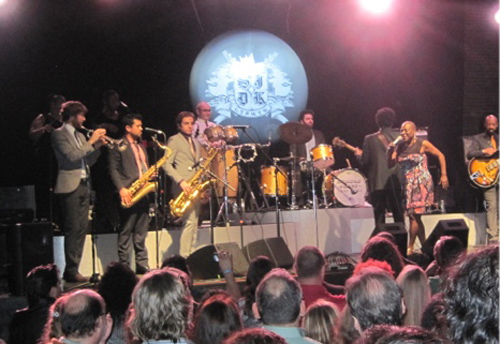 Most songs performed were taken from this year's release, Give the People What They Want. In addition to the aforementioned two tunes, the Dap Kings kicked out "Retreat", "Makin' Up and Breakin' Up", and "People Don't Get What They Deserve", among others. There were also cool surprises from past releases – "100 Days, 100 Nights" from like-titled 2007 record and "Ain't a Child No More", from 2010's Learned the Hard Way release.
Now, people… there are not enough adjectives to describe the energy, heart and REAL soul poured out by Sharon Jones every performance, and tonight was no exception. It is a near-religious experience. I have seen her on both sides of health and I've got to admit she had a burning passion to show her audience that this night, yes, Ms. Jones is in the house and she can still deliver the goods! She expresses how much it means to bring her best every show. You can only get a true sense of this bottled lightning dynamo in a little fifty-something body by getting up and getting out to a Dap Kings show. There, you will also witness her stable of dances from the Sixties – she works The Jerk, Mashed Potato, Wobble, Funky Chicken, more! I get tired just watching! Then it's the band's turn – each member is introduced, plays a lead, and busts a move while jamming "Better Things to Do".
By now, the crowd is in a frenzy and ready for an encore! Prepared for her rendition of "Respect", which she has closed many shows, we were actually treated to their funkified version of Woody Guthrie's "This Land is Your Land" from 2005's "Naturally" record. Oh yeah! It's made for you and me!
How aptly named… "Give the People What they Want" – Sharon Jones and the Dap Kings certainly accomplished that and more! Godspeed in your recovery, Sharon.
Sharon Jones and the Dap Kings: http://www.sharonjonesandthedapkings.com ◼
---