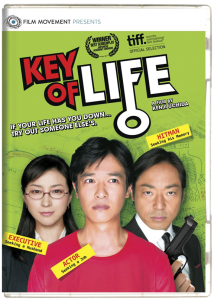 Key of Life
directed by Kenji Uchida
starring Masato Sakai, Teruyuki Kagawa, Ryôko Hirosue
The KlokWorks / Film Movement
Ah those wacky Japanese actors! The only thing Sakuari (Masato Sakai) does worse than act is attempt suicide; he simple falls off a chair and pull the lamp wires out of the ceiling. Nearly broke, he decides to visit the bathhouse to figure out "what next?" Legendary hit man Kondo (Teruyuki Kagawa) visits as well, he's there to clean up after his latest job. Kondo slips on some soap, knocks himself out and Sakuari swaps locker keys with him. How could his life be any worse? When Kondo wakes from amnesia, he returns to Sakuari's place and meets a young woman (Ryôko Hirosue) who has vowed to marry in two months: all she needs is a suitable man. As Sakuari bluffs though on-the-job hit man training, Kondo and the woman fall in love and all three lives intertwine.
Yeah, I said "intertwine" but anything else beyond that would be a major spoiler, this is one of the most complicated and well-constructed movies I've seen in years. Nothing is as it seems, everyone achieves personal and professional growth, there's cliff hanger happy-ever-after ending and, well, gosh, it's simply a great movie. Sakai over acts, but he does it so well and with so much charm you have to love him like a lop-eared puppy. Hirosue is charming as well, she's very serious and not exactly in love with being in love, but rather she's a hard worker out for a corporate merger that will strengthen her market position. She's also a cutie, but never seems to notice. But it's Kagawa who sells this film, he's slick and brutal and a total sham with the acting skills that Sakai could only dream of.
With Japanese subtitles you have to pay attention, but you rarely get bored and the switches in the plot are sudden, unexpected, and perfectly plausible. There's never anything gratuitous, and like all good foreign films you see into another culture while totally identifying with everyone on screen. This might be my favorite foreign film of the year; I'll let you know later.
---