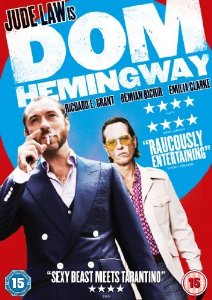 Dom Hemingway
directed by Richard Shepard
starring Jude Law, Demian Bichir, Richard E. Grant
Fox Searchlight
It's been 12 years since Dom Hemingway (Jude Law) last saw the sunlight of freedom. He kept his mouth shut for his boss, "Mr. Fontaine" (Demian Bichir) and now he doesn't just want his cut; he wants a present as well. Hemingway freely admits his anger issues; he beats a man to a bloody pulp as his first act of freedom. He drinks a bit as well and appreciates both hookers and blow; he's just a man for the '90s lost in the wrong century. His old buddy Dickie Black (Richard E. Grant) joins him and they travel to France to get his share of the job that sent him to jail. There, Mr. Fontaine pays up after a bit of the old argy-bargy, but he draws the line at the "present" Hemingway demands: Fontaine's girlfriend Paolina (Madalina Ghenea). A few extra stacks of 50 pound notes might do as well, but after that it's up and down and all around for Hemingway. He can't get a job, can't reconcile with his daughter and can't believe Dickie actually lost a hand. Hemingway thought his black glove was just a fashion thing.
Crude, funny, and action packed, Dom Hemingway takes a comic look at the violence of this fish out of water story. Hemingway makes brutality and self-centrism an art form; his opening "cock" speech is hysterical (and likely to be cut in the Netflix release). He opens a safe by humping it, he kills a cat because he doesn't like its name, and he even lights up in a no smoking pub. Backing him up are equally eccentric if not as flamboyant actors. Richard Grant looks morose and parental as he tries to reign in Hemingway's biggest excesses. As a criminal mastermind, Bichir is straight from a Bond movie, he hunts in riding pants, keeps a million in small bills on hand at all times, and maintains perfect facial hair. Girlfriend Ghenea is what might be described as "a nice piece pf crumpet" – any acting skill she may possess are overshadowed by her "Page 2 Girl" looks.
When Hemingway plays the Teddy Boy on a mission of vengeance, this movie is at its best: outrageous action filled with bigger-than-life archetypes. It's weaker moments occur in the back end. There's no Italian Mafia closeness here, just the brusque bonhomie of British gangsterism. When he attempt to reconnect with his daughter and grandson, he feels weak, vulnerable and that nothing he's accomplished in life was worth the effort. He's a little late to the humanity game, and is he really going to take his grandson on a job? Still, this is a big brass balled good time of action adventure and fast living, but Hemingway is a monster of paper mache and shadows. When he's bad he's very good, and when he's good, he's just a bloke who ought to be on the dole.
_This film is part of the 2014 Florida Film Festival running April 4 to 14 in Orlando Fl. Details, screening locations and times may be found at www.floridafilmfestival.com_
Florida Film Festival: http://www.floridafilmfestival.com • Dom Hemingway: http://www.foxsearchlight.com/domhemingway
---