Jack White
with Olivia Jean
Moran Theater, Jacksonville, FL • September 20, 2014
Jen Cray
To those who say there are no more Rockstars, I present Jack White.
I can think of no other modern day musician whose presence onstage is so definitive as to conjure a feeling of watching a legend in his own time. And no artist Iv'e seen in current times can get every single person in the sold-out room – on up to the tippiest top back row balcony – to not only stand up but stay up for an entire 2 and half hour performance.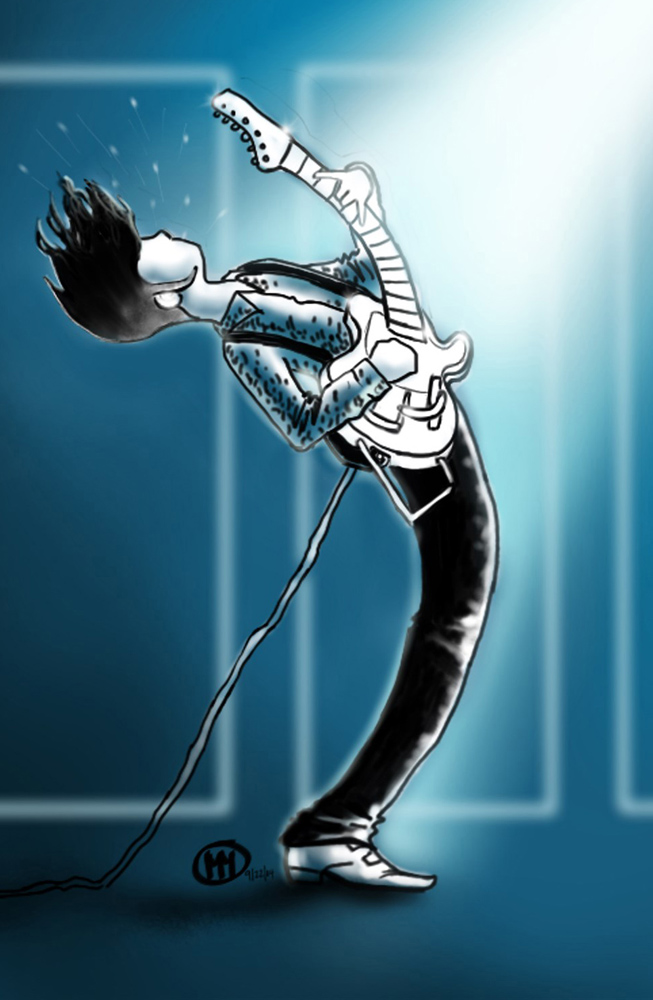 "You won't be needing those chairs… this is a rock show," the tour's host/announcer explained before the vast curtain parted. He also politely instructed everyone to keep their cameras in their pants which, unbelievably, people did! 3,000 fans, abandoning their cushy chairs – screaming, applauding, dancing, singing, looking at the stage and not at a screen… It was as if I had traveled back to a simpler time.
And what was the catalyst that invoked such a visceral response? Well, it was Jack White's very first time ever playing in Jacksonville (with ANY of his bands) so, perhaps as an apology for having skipped the North Florida city for so many years, he gifted the crowd with the song that started it all: "Fell in Love with a Girl." Dating back to 2001's White Blood Cells this was the song that erupted the then-unknown Detroit duo The White Stripes into the stratosphere.
Not a bad way to start the night.
Buried inside of a studio set blanketed by blue light, the maestro who famously never makes a setlist – preferring to fly by the seat of the moment – conducted his band through a fan's dream set that played heavily on White Stripes tunes including "Dead Leaves and Dirty Ground" and a nakedly heartfelt "Same Boy You've Always Known." A smoldering performance of "Icky Thump" that transitioned into Led Zeppelin's "Whole Lotta Love" and back again kicked off the night's encore and was so seamless that many may have missed it, or not even noticed that a Jack White riff just danced with a Jimmy Page riff and made sweet sweet love.
The Dead Weather, Jack's project with The Kills' Alison Mosshart, was represented with "I Cut like a Buffalo," and a 10 minute guitar orgasm of "Steady As She Goes," that seguewayed into The Ventures' surf rock anthem "Pipeline," gave props to The Raconteurs.
All of his previous successes aside, he does have a new solo record to promote (a damn near perfect one, at that) and of Lazaretto's 11 songs he played 7. The country blue lyrical anger of "Entitlement" felt particularly prickly after a short and cheeky sarcastic commentary he gave about musicians not being allowed to share opinions with their audiences lest they be branded angry or having "gone on a rant."
"My lawyer has advised me that there's only one safe topic I can talk to you about… It's beautiful weather today in Jacksonville, isn't it?!… so, now, you all go on social media and let everyone know I said that…"
The comment, which is both sad because of it's truth and hilarious because of White's boldness, was in reaction to a moment a couple nights prior when White, at a Boston concert, "ranted" about Rolling Stone magazine and about how most current performers don't use microphones anymore, or have extra guitarists onstage to cover up mistakes. For the latter he used Foo Fighters as an example and so, naturally, the internet blew up immediately with stories of Jack White vs. Dave Grohl. Enough so that his publicist had to release a statement declaring that all was well in the rock 'n' roll world.
At least on this night, all that modern day distractive bullshit seemed to be put on pause (with the exception of a few bored husbands, dragged to the show by their excited wives, who kept checking football scores discretely). Even my own camera stayed in my pocket for the duration of the night, out of respect to Jack as much as out of my own desire – nay, NEED – to experience the untainted, sweaty, welcoming overload of live music as performed by someone who understands the necessity of spontaneity and rawness in rock 'n' roll.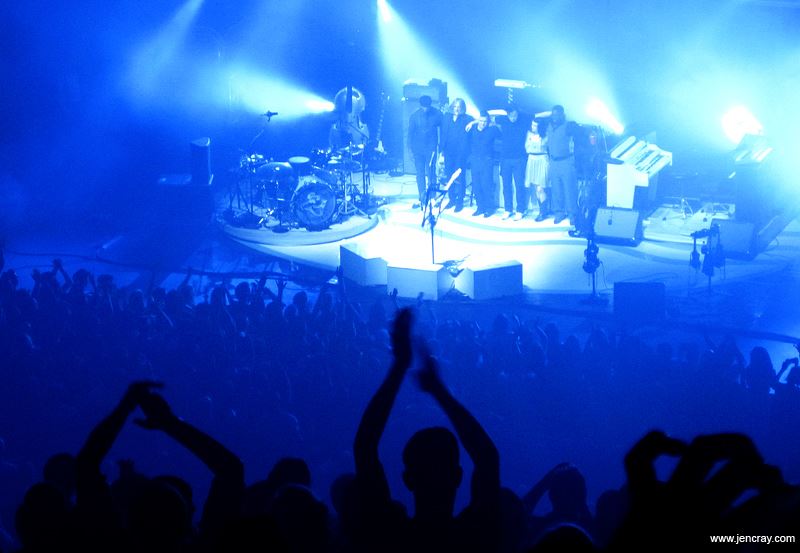 As the band gathered and posed for their final bow, as the last notes of "I'm Slowly Turning Into You" resonated in my ringing ears, I took my pocket sized Canon out for one, lone quick pic. Apologies, Jack, but you can't give me a memory so perfect and not expect me to sneak one moment of it that is solely my own. ◼
---