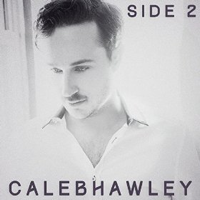 Caleb Hawley
Side 2
In early 2014, Caleb Hawley released a six-song EP of soul-driven pop music inspired by the late '60s/early '70s R&B greats, complete with a string section comprised of New York Philharmonic members, simply entitled Side 1. In stark contrast, the 29-year-old Minneapolis native and current New Yorker now offers up six more nuggets on the second EP, Side 2, that evoke a more current vibe and incorporate a myriad of instruments including a tight horn section and several types of keys. Both EPs were co-produced by Hawley and Dan Molad, drummer of Lucius, with the sophomore effort set for release on September 9, 2014.
Hawley comes flying out of the gate with the groovy "My Hell," one of the strongest songs in the collection. It's the kind of track that stays with you long after it's over, and you want to hear it again. This cut has pop hit written all over it.
With its marching band opening/closing drums and full brass two thirds in, accompanied by a Justin Timberlake-tinged vocal and sparse hints of One Republic, "Little Miss Sunshine" is another stellar piece with a poignant message. It's better just to be a chameleon somewhere in the middle with everyone. I'm so glad I didn't listen to him. I'm so glad I never cared to fit in. That's a positive lyric for a young, impressionable audience, so bravo on that one.
Citing Beyoncé as one of his influences, Hawley pays homage to her on the JT-colored, sugar-mama themed "Bada-Boom, Bada-Bling," even mentioning her by name and including the play-on-words lyrics Check it out, Beyoncé. Well, Sasha she be talkin' fierce again.
"Long Life" has a distinct Prince groove and offers up some killer harmonica from Evan Watson, while "Give It Away" also has some Prince influence infused with early '70s R&B and Hawley's far-reaching falsetto. Wrapping up with yet another '60s/'70s-style leaning, "Find It" starts with a clear Supremes "Reflections" opening and builds into a funky modernized beat.
The interesting aspect of this EP is the melding of old and new sounds, reinterpreted and reinvented for a contemporary audience and utilizing an array of unexpected instruments. Some of the lyrics showcase a more mature Hawley as he continues to hone his style and find his sound.
Caleb Hawley: http://www.calebhawley.com
---