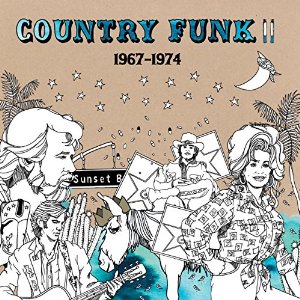 Country Funk II: 1967-1974
Country Funk II: 1967-1974
Light In The Attic Records
Following up on their initial volume from 2012, Light in the Attic records have garnered together another slab of soulful sides and here's hoping this shit don't end. The 17 tracks here range from the well-known (Willie Nelson, Dolly Parton) to the undeservedly obscure such as the great Jim Ford or Texas songwriter Willis Alan Ramsey. On first glance the lineup might surprise–Bobby Darin?– but all is revealed on the first spin- these folks are funky.
You're hooked from the get-go with Billy Swan's haunting, slow blues-soaked "Don't Be Cruel", which strips all the pop from Presley's classic and finds the emotional core of the song, which, in Swan's gifted hands is a dark and vulnerable place- picture Nick Cave at the Ryman. You'll never hear the song the same again. Following that up is Bobby Darin's "Me and Mr. Horner", showing a more gritty, resigned side to his other pop work.
The great thing about compilation albums is discovering somebody new, and this one doesn't disappoint. I had never heard of Thomas Jefferson Kaye prior, but his "Collection Box" – a laid-back groove of a tune that smolders ala a country version of a great Stax single- peaked my interest. Turns out Kaye worked with the great Gene Clark on his masterpiece No Other, and you can hear it on "Collection Box". Or how about Great Speckled Bird with "Long Long Time to Get Old", with it's New Riders of the Purple Sage/Goose Creek Symphony country-rock sound that just ambles along in a no-hurry pace as it warns the young generation just how long this life is. Great stuff.
Be it familiar- such as Willie Nelson's "Shotgun Willie" or JJ Cale's "Cajun Moon"– or unexpected such as Jackie DeShannon's stunning take on The Band's "The Weight" or Dillard & Clark's country hoe-down version of "Don't Let Me Down" from the Beatles, this is 17 cuts of pure funkiness, united in the groove of a certain southern soulfulness that gets into the blood and never lets go. Keep it coming guys, keep it coming.
---