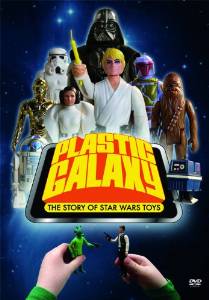 PLASTIC GALAXY: The Story of Star Wars Toys
directed by Brian Stillman
Star Wars was an obsession to kids growing up in the '70s. We might have liked, even loved other movies or television shows, but we wanted to live in the Star Wars universe. Luckily, the good people at 20th Century Fox and Kenner Toys recognized our need and churned out a plethora of plastic action figures, playsets, and vehicles so that we could populate that universe, if in miniature form.
Plastic Galaxy: The Story of Star Wars Toys, is an informative, fascinating, and envy-producing documentary on both the creation of the Star Wars toy lines, and the adults who collect them.
Director/producer Brian Stillman blends vintage toy commercials with interviews with toy designers and rabid collectors, showing both the work that went into the toys, and the work that went into collecting them. Stillman knows his way around an interview, and is able to pull great quotes out of his subjects, whether a designer revealing that working at Kenner could be fairly stressful or a collector showing his prized, battered X-Wing fighter he's had since childhood, seemingly out of place in a room full of mint-condition figures.
And those figures – seemingly acres of spotless plastic figures and vehicles, lovingly curated and shot, sure to give viewers pangs of nostalgia if their own collections were sold at yard sales, destroyed, or lost. But the collectors don't stop there – they have prototypes, wax molds, internal memos from Kenner, just about anything related to Star Wars you could think of. The collectors, while certainly rabid, come off as likeable, and bring up the stories of recreating the Star Wars universe with their figures as children, and how their own children are continuing the Star Wars love.
As an entry into a fascinating world of toys and toy collectors, Plastic Galaxy: The Story of Star Wars Toys, will reward toy collectors, Star Wars fans, and adults who now wish they hadn't launched all their figures into the Manatee River in a funeral pyre for some stupid reason.
---