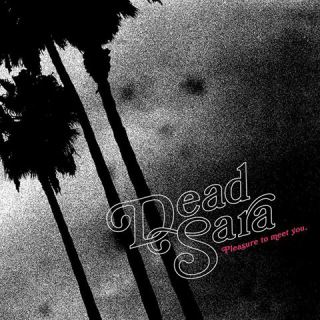 Dead Sara
Pleasure to Meet You
Pocket Kid Records
Does depression make you a better songwriter? Is a song more powerful if it's based on personal experience, like a heartbreak… or the disillusionment that comes when the major label you've signed with wants you to be be something you're not? A song certainly sounds better if you've got a well of emotions to pull from and, Dead Sara's compelling frontwoman Emily Armstrong sounds like she's got a deep and passionate well. Now, it's not my place to say if songs like "Suicidal" or "For You I Am" (with its wailing chorus of "I'm slowly dying… I wanna be dead" closes out the record) are based on her personal diaries, but damn if she doesn't sing them as if her life depended on it! Raw, throat bleeding, tits out vocals that make you feel like she's about to reach through the speakers and pull you back in with her. Well, as a listener, I'm putty in your hands, Emily.
It's been 3 years since the L.A. band's rightfully hyped debut, so what's taken Armstrong, guitarist Siouxsie Medley, drummer Sean Friday, and bassist Chris Null so long to release a followup? Answer: Legal battles with their former label, Epic Records.
After the dust on that fight settled, the band decided to put out Pleasure to Meet You on their own Pocket Kid Records and the resulting batch of songs showcases the young band's unique composite of classic rock, punk and blues beautifully. This new record is more consistent and more confident, yet hasn't lost any of the spontaneity or vitality of their debut.
Lead off single "Mona Lisa" is one of the sexiest rock songs I've heard in YEARS. It kicks off with some snapping and humming, before a slow drum beat begins pulsing behind Armstrong's sultry vocals. The slow burn picks up with a classic blues guitar riff, and a bass line so hot it peels your clothes right off your back, before reaching a howling climax with the repeated chorus of "I know what you want/ but it's not gonna be what you like."
"Something Good" has a familiar feel, like driving along a coastal highway smelling scents that take you back to childhood. The distortion effect on the guitars in "Lovesick" have a very Nirvana feel, though the melody leads the song more into Foo Fighters territory. And then there's "Radio One Two" – an obvious future single that has the immediate likability of a hit song, without sacrificing the band's edge. "Blue Was the Beautiful You" is another standout, a seductive, blues burner that bleeds with ache. Armstrong's voice has often been compared to such greats as Janis Joplin and Grace Slick, but this performance secures her sound as all her own.
If Dead Sara don't become bonafide Rockstars after this album hits, then there really is no justice in the music world.
---