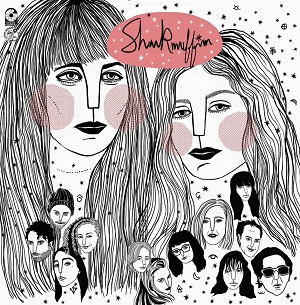 Sharkmuffin
Chartreuse
State Capital Records/Little Dickman Records
When you call your band Sharkmuffin, you've already got my attention. A sweet, slightly chubby shark? A baked good with bite? Two words randomly married into a band name? What does it mean?! Color me intrigued, even before pressing "play."
Intrigue could have easily turned to apathy if the music didn't hold up, but Sharkmuffin's full length debut Chartreuse bit me with the power of a Great White off the coast of Amity. Girl fronted garage punk with catchy hooks and crunchy guitars describes this Brooklyn trio's sound in a nutshell, but doesn't convey the skill with which they wield these commonalities. There's a punch to their delivery, snarl and spitfire in the vocals of Tarra Thiessen and Natalie Kirch, and if the drum parts on the album bring to mind a certain classic Hole record it's because Patty Schemel was doing the pounding. It's a recipe for delicious rage and it all comes together most succinctly on "Tampons are for Sluts," with its bass heavy groove and an arc that goes from calm and sexy to bleeding fury. If The Coathangers got onstage with L7 it may sound something like this. Watch out for flying tampons.
"First Date," and "Now" are both primal and raw like a sweaty afternoon romp. "I Called You From The Moon" is an even brasher beast, starting with a scream and winding down two minutes later with a feedback frenzy that would make Metz envious. But this isn't to say that Sharkmuffin are one trick ponies, Chartreuse packs the melodies alongside the noise. "Mondays," "Straight Lines" and "Broken Teeth" show a degree of colors to the Sharkmuffin palatte – powerpop, 50's girl group, a little rockabilly raunch. These girls got range beyond rage – like sharks you can cuddle with, or muffins spiked with acid.
Give Chartreuse a bite. The bitch will bite you right back.
---