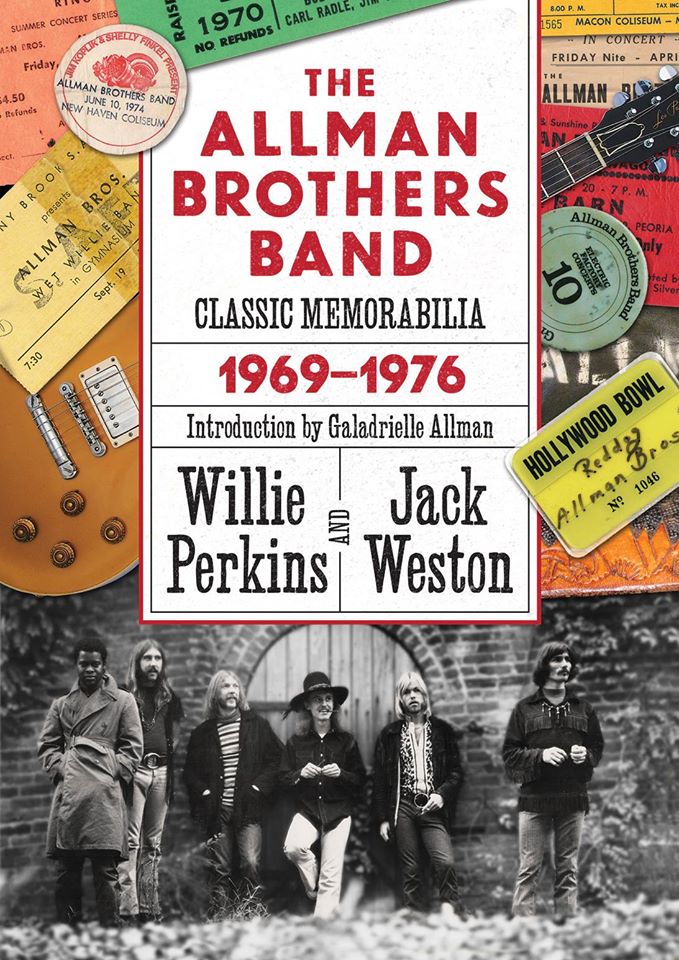 The Allman Brothers Band Classic Memorabilia, 1969-1976
by Willie Perkins and Jack Weston
Mercer University Press
Howard Duane Allman, founding member of the Allman Brothers Band, had a master vision beyond his youthful 24 years – an old soul in a young man's musically innovative body and mind. The cutting-edge fusion of rock, blues, jazz and country offered a unique sound, unlike anything that had preceded it. They were the "people's band," and often would spontaneously set up in a park and jam for free, many times with other bands. On October 29, 1971 at the tender age of 24, Allman's shooting star abruptly burned out when he died after a motorcycle accident in Macon, Georgia. Just over one year later, on November 11, 1972, original band bassist Raymond Berry Oakley died after an eerily similar accident, only blocks away from Allman's crash site. This double tragedy would have broken a less stalwart group, but not the Allman Brothers Band – they endured and persevered, through the highs and lows, and Allman's legacy remains stronger than ever. With legions of loyal fans from the inception era to the later generations of today, it was and still is ALL about the music. And because of that music, an entire array of memorabilia sprang to life and wove its way into the band's history, along with a subculture of memorabilia collectors. This greatly anticipated book explores and highlights some of the best examples of these precious, highly sought collectibles.
With the combined expertise of Willie Perkins, the band's tour manager from June 1970 until June 1976, and Jack Weston, a long-time ABB fan and memorabilia collector, the book is chock full of fascinating nuggets. It includes a colorfully vibrant selection of rare photos, tickets, posters, t-shirts, contracts, cancelled checks with band signatures, and other bits and pieces of ephemera. If you're an Allman Brothers Band fan, particularly one from the original-six incarnation, this is a must-have book to add to your collection. In addition to the multitude of photos, Weston and Perkins add their own descriptions and histories for many of the pieces, and Weston also educates collectors on proper preservation techniques. Allman's daughter, Galadrielle Allman, lovingly crafts the book's introduction, and sums it up in her usual eloquent style: "This gathering of signed checks and hotel receipts, t-shirts and promo stickers, ticket stubs, and road worn gear is a tribute to a golden moment in time when my father strutted proudly and played his heart out every night with his band of brothers. This is the stuff from which history is made."
Even though the Allman Brothers Band has called it quits after so many years, it's books such as this one that will keep the torch lit and the music alive. The road does, indeed, go on forever.
---