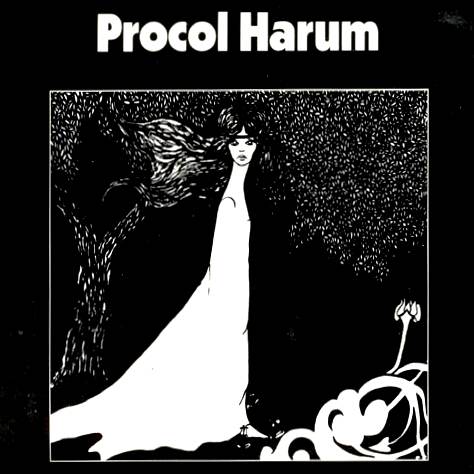 Procol Harum
Procol Harum, Shine On Brightly, Salty Dog, Home
Esoteric / Cherry Red / Decca
This may be the most intimidating CD collection I've ever covered. The package on my doorstep held four separate sets of Procol Harum re-issues spanning 1967 to 1970. I'm not sure if there's a discount for the set but each is readily available from your favorite music retailer. Each album is lavishly packaged including original art, poster replicas, and handy lyric sheets / mini posters. You're looking at three different "Whiter Shades," four "Homburgs" and at least on different version of each additional track from each disk. The boxes impress; each album is sub-boxed with a unique package. One opens up like a double gate fold, another is a pull out drawer, and another is a pizza box. It's pricey, but worth it if your into this band or that magical era. Let's see how the magic holds up:
The eponymous first album came out in 1967. Here we have the breakout hits "Whiter Shade of Pale" and "Conquistador" along with the sad "Homberg." This version of "Conquistador" which didn't chart until a few years and albums later but Procol was one of the first groups to use classical music intertwined with hard rock and gain success. Gary Brooker's voice is smooth and confident and his surreal lyrics can still generate debate today. The Hammond B3 (helmed by Matt Fischer) is the foundation of the sound, and indeed it became a hallmark of the entire prog rock era. The arrangements sound a bit plain as do most late '60s era; it was the destiny of the entire progressive movement to add more and more layers of sound until we drowned on the parfait of over-indulgent rock. You can hear a steady increase in audio complexity on these disks up until the punks revolted a scant 7 years later. While Bach formed the basis of "Whiter Shade" many other influences appear here: "Something Following Me" offers a smoky jazz sound, "Good Captain Clack" owes its bones to English music hall sounds, and "Mable" might be a hillbilly jug band tune reinterpreted by Django Reinhardt.
There next release Shine On Brightly adds a 24 page booklet filled with dense type and pictures of the band. The story is familiar – success and excess did damage to the band, but not fatally. The music continues to explore mixing styles often adding a fuzzed guitar courtesy of Robin Trower. He's the guitarist on this entire series of releases; one album after this collection he left only to rejoin the band briefly in 1990. There's an eclectic mix of sources here and the chords of military bands and Celtic folk whisper through "Quite Rightly So" and an American blues/jazz sound informs title track "Shine On Brightly." Lyrics continue to offer intellectual challenges and complex thoughts, I can't say I've plumbed them all that deeply but I love "In the Wee Small Hours of Sixpence." I hope is the sort of bar you can hang out in all night, sleep it off in a corner booth, and wake to find the band starting a fresh set. The album wraps up with an impressive church organ; but the vicar might not approve of the lyrics in "Grand Finale." It's pompous and soaring, its rock and roll standing up to the old folks and saying "This really IS music, and its GOOD". Life was good in 1968, but that can never last.
They say it takes three albums for a band to find its real groove, and in 1969 Salty Dog arrived and sold well on both sides of the pond. The cover features an interesting nautical motif of a sailor's face in a life ring. The title track is a dark moody lament, and not the sort of song that sounds like a hit. But it was; we were all on the back side of a trip to the Magic Kingdom and needed to chill for a while. "Milk of Human Kindness" finds some exciting guitar work but the tone of the album is rather calm and introspective. Still, Trower's guitar is pushed toward distortion as is Brookers voice on "The Devil Came from Kansas." The classic blues track on this disk is "Juicy John Pink." It's intimate and you can hear someone cough; the acoustics of the studio convey the atmosphere of a smoke-filled basement juke. The nautical theme continues with an adaptation of "The Wreck of the Hesperus" and according to the notes, Mr. Trower sings on "Crucifixion Lane." It's almost a concept album, but that phase of rock is just around the corner.
By 1970's Home the band had hit its stride as it continued to explore brave new sounds. Many of the early rockers were driven by American roots blues; that shows on "Whiskey Blues," a fast rocking song pre-saging ZZ Top and George Thorogood. The album then screeches the brakes down to "Dead Man's Dream." Here we are immediately in a thoughtful lament. Why? Because they could, and that's the heart of prog rock: it was an experiment. But always one that placed melody and composition ahead of "weird for weirdness's sake" and we never hear the electronic dissonance that "experimental" music relies on today. Later the band head off to the pastoral with "Barnyard Story" and "Piggy Pig Pig." While progressive bands came for all the usual rock and roll domains, no matter the country of origin it had and still has a certain retro British country side feel. Fast, slow, waltz tempo, all fits into the world of Procol Harum. I've enjoyed wrestling with this collection; there are songs I've forgotten, ones I never heard, and a few all-time favorites brought back to my earbuds. Looking back on this era with the perspective of punk, rap, post metal and stadium rock enlightens like going through an old photo album with grandma.
---