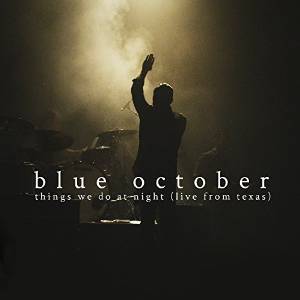 Blue October
Things We Do at Night (Live in Texas)
Up/Down – Brando Records
Since bursting onto the alt-rock scene in 1999 with Consent To Treatment Blue October have built a reputation as a superb live act.
2004's excellent Argue With a Tree showcased the first half of their career in a live setting and now double-disc DVD/BluRay combo and double-disc CD Things We Do At Night (Live From Texas) focuses on material from their last four albums.
Filmed and recorded at Dallas' House of Blues, it's clear from Things We Do At Night (Live From Texas) that Blue October's reputation as live performers is well-earned – the band is tight and engaging, and lead singer and songwriter Justin Furstenfeld never misses a note.
As songs like "Into the Ocean" and "Hate Me" demonstrate, Furstenfeld writes from a deeply personal and honest perspective, covering subjects as hard-hitting as mental illness, failed relationships and custody battles. The atmospheric "The Feel Again" is a particular highlight along with the intensity and raw emotion of "Fear" and "Bleed Out". But it's the superb "The Worry List" which stands out most from a varied and brilliant set. Possibly one of Furstenfeld's most stripped-bare songs, documenting his devotion to his daughter throughout the wreckage of a messy divorce, it's a stark, almost uncomfortable reveal of his innermost thoughts.
Now remarried, Furstenfeld is not content to wallow in past troubles, and Things We Do At Night (Live From Texas) has many optimistic and positive moments, including the brilliant "Sway", "Should Be Loved", the haunting "Not Broken Anymore" and the closing title track.
With superb musicianship from the band, a varied setlist of emotive, powerful songs and a real energy from a clearly devoted audience, Things We Do At Night (Live From Texas) is a real triumph and shows a band at the peak of their powers.
---