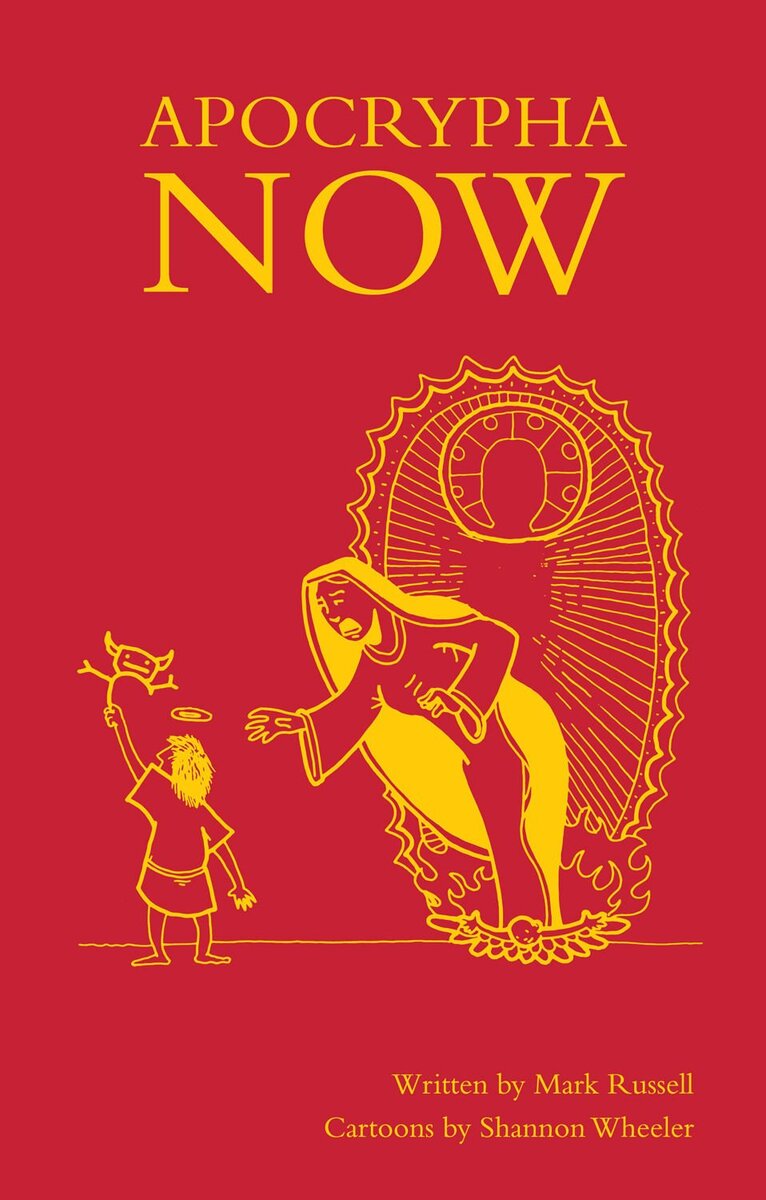 Apocrypha Now
by Mark Russell and Shannon Wheeler
Top Shelf Comix
Have you ever wondered about Adam's first wife? Or what type of guy Solomon really was? There are a lot of books that never made it into the official Bible, and Mark Russell takes a plain English look at several of these book in Apocrypha Now. Shannon Wheeler, of Too Much Coffee Man fame, provides lovely and often humorous illustrations to accompany the stories.
First things first, this is not a comic book/graphic novel. This is a text piece with occasional illustrations. It is broken up into chapters that, while carrying a through line, are easily read independently. Russell starts us off with an introduction that defines the Apocrypha, those writings and stories of early Jews and Christians that have been stricken from the canonical Bible. He explains the context behind both the early writings, and process of removing them from what would be the official books of the religions.
After setting the stage, Russell immediately takes us through the early Jewish writings, as seen in Part One – The Midrash. Among the stories, we learn about the Creation, and about Adam's first wife Lilith. We get the details you may have missed in the stories of Cain and Abel, Noah and Abraham, Joseph and Moses. He details the real reason God destroyed Sodom (hint – it had nothing to do with homosexuality or sex at all). And a funny interlude presents the Wisdom of Solomon as if it were a daytime Judge show. Part Two brings us the Talmud and other Jewish apocrypha. There we learn about Bel and the Dragon, the Maccabees, and how Caesar reacted to Jewish faith. The final part brings us Gnostic Gospels and other non-canonical Christian texts. Here we get to learn how difficult it was for Mary and Joseph to raise a young Jesus, Judas's point of view on his betrayal, and how it felt to be Mary Magdalene among all of those guys. Part Three finishes with the difficulty Jesus's followers had after he died. Throughout all of these funny and engaging tales, Wheeler interjects illustrations that range from whimsical to laugh out loud funny.
If you have ever heard of the Gnostic Gospels or Nag Hammadi, and wondered what was up with that, Apocrypha Now is an excellent primer. Perhaps it will sate your curiosity, or perhaps it will spur further interest and research. If this concept of the Bible's deleted scenes is new to you, this is a perfect place to start. In any event, this is a fascinating take on some very important mythology that is often ignored or misunderstood. Reading this has spurred my own interest, insomuch that I am going to seek out their original work, God Is Disappointed In You, where they adapt The Bible in the same fashion.
---