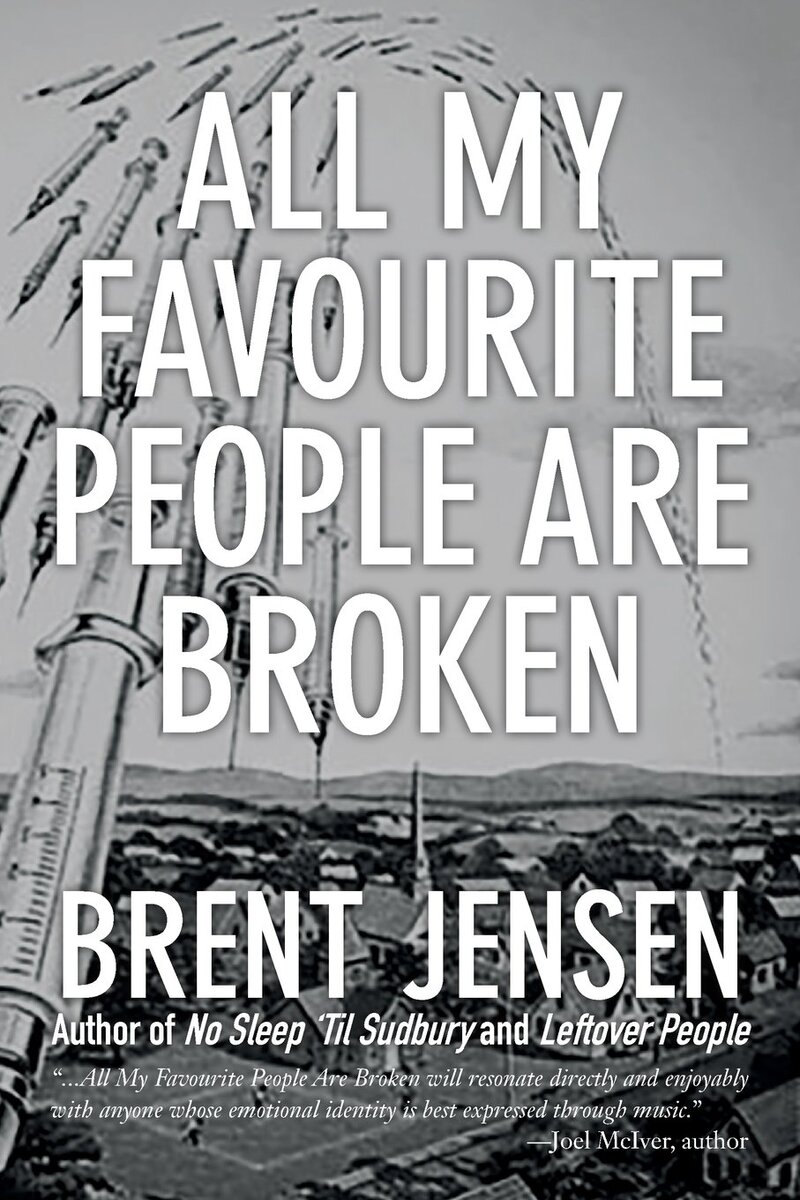 All My Favourite People Are Broken
by Brent Jensen
Edwards Press Company
One-part transparent geek, and one-part mysterious sage, author Brent Jensen hooked me with his engaging 2012 coming-of-age debut, No Sleep 'Til Sudbury. In 2014, the Canadian storyteller took me, along with his countless other drooling disciples, on a cross-country U.S. road trip in the pages of his sophomore offering, Leftover People. And in 2016, Jensen remains at the top of his game – delivering yet another riveting, entertaining and hilarious pager-turner with his newly-released third memoir.
From the get-go, I found the premise for All My Favourite People Are Broken to be intriguing. Two high school buddies from the '80s (Jensen and his sidekick, Garvey), who both possess a unique passion for music, reunite some 20 years after graduation for a (NON-"Brokeback"-type) getaway weekend in the majestic Canadian mountains – an excursion fueled by excessive alcohol consumption, reckless drug use, and unabashed junk food inhalation. However, their primary objective is actually quite cathartic – personal introspection through whipping out their individual iPods and sharing with each other, their ultimate music playlists. Spoiler alert: both of these guys LOVE Neil Young. So, if you can choke down that little factoid, then – let the inebriated "geekfest" begin!
Only ONE rule would apply to this unsupervised psychoanalytical experiment – there would be NO judgment cast from either party onto the other – no matter how embarrassing or shameful any of their picks proved to be. And trust me, there is plenty-o-shame factor to go around (particularly where Garvey's list is concerned). Yet, despite the agreed "no judgment" clause, the two longtime pals do spar, frequently. Hence the story zings throughout, offering near-non-stop repartee delivered with all the sophisticated gusto of an all-night frat house kegger.
Simply put, the payoff here meets (and far exceeds) the promise. I was hooked immediately, and I remained reeled-in for the long haul. In fact, Jensen had me laughing out loud so many times that Starbucks staffers were becoming rather "concerned" about that weird dude with the iTablet, snorting and snickering away at the end of the bar.
But in typical Jensen fashion, the payoff doesn't come solely through his humor, or even by way of this spirited analysis of timeless music and its iconic artists. Jensen's payoff, once again, is delivered through his unique and compelling stories – about people. And as these two old friends, Jensen and Garvey, unpacked more (and more) stuff – personal perspectives and random life experiences, I was not only entertained, but I also felt an even crisper connection to Jensen. Heck, I even felt like I'd found a new friend in Garvey, despite his admitted fanboy-caliber George Michaels admiration.
In sum, All My Favourite People Are Broken is a read that I recommend highly. Come for the booze, the shrooms and the tunes – but stay for the stories, the Oreos… and the laughs!
---