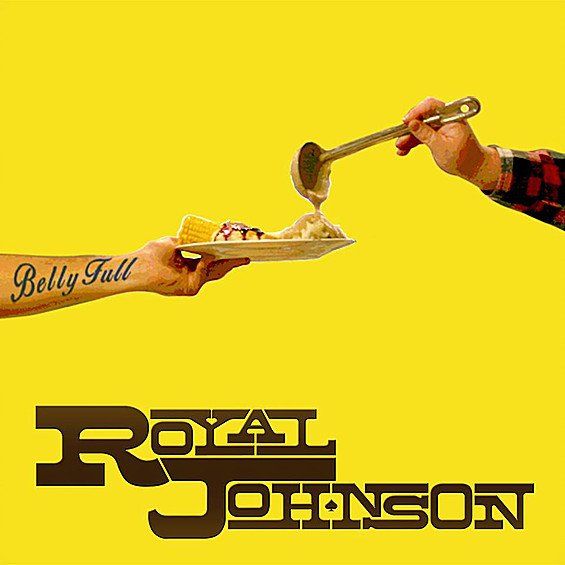 Royal Johnson
Belly Full
Macon, Georgia-based "Southern Funk & Blues" rockers, Royal Johnson, really hit the ball out of the park with their self-recorded, self-produced debut, Belly Full. Featuring eight tracks written or co-written by multi-instrumentalists Andy Johnson and Chance Royal, and one Blind Willie McTell cover, the nine-song collection offers a little taste of everything including blues, country, soul, funk, rock and bluegrass – and they do it in a tastefully subtle way. There are some bands whose music spans many genres, but it doesn't mesh into a cohesive record. Royal Johnson is NOT one of those bands. The sounds mesh on this album, and they mesh splendidly.
Opening with "Sunset Roller Palace," a banjo-driven instrumental that morphs into some wonderfully understated guitar work, Johnson and Royal really showcase their incredible talent.
Sneaking in some distinctly Allman Brothers Band/"Midnight Rider" licks as well as a bit of Led Zeppelin-esque chords, "Boar" introduces Johnson's countrified, powerful vocals and also features him on bass. "Plow" and "Some Kind of Way" offer a much funkier groove and incorporate the bass skills of Kevin Vines, who now is the official band bassist.
Slowing it down a few notches, Johnson is joined by Tara Coe on backing vocals for "Ballad of Birmingham." The decidedly "House of the Rising Sun" comparison cannot be missed, nor can the darker overtones of the song. But the funky groove picks right back up with "Sister Carrie" followed by the Blind Willie McTell cover, "Dyin Crapshooter Blues," which the boys beautifully bend and shape to make their own. The high energy, rockin' sounds of "Hell or High Water" are a nice contrast to the last track, "Don't Spill It," which has a hint of Lynyrd Skynyrd's "Simple Man" in parts.
It only takes one listen to Belly Full to realize that this band is the real deal. They have begun work on their sophomore project at Paul Hornsby's Muscadine Studios in Macon, Georgia, and with the addition of drummer Joanie Ferguson, their sound is as tight as ever. As legendary guitarist Robert Lee Coleman says, "Oh, they funky. You can take it from me!" Do yourself a favor and check them out – you will not be disappointed. Indeed, Royal Johnson may just be the next big thing to come out of Macon.
---