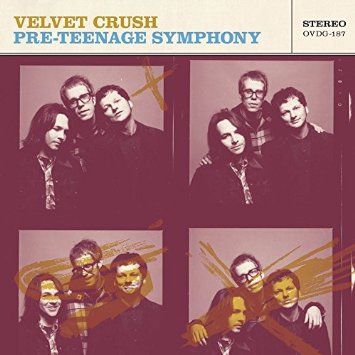 Velvet Crush
Pre-Teenage Symphony
Omnivore Recordings
The '90s were a miserable decade, at least for me. Musically, emotionally, financially, all rotten, with a few bright spots. And one of those bright spots, one of the few things I've kept near in the decades past that point, is Teenage Symphonies to God by Velvet Crush. Friday afternoons I'd procure a jug of some vile wine from package store down the street, get some assortment of fried food, and head home, where I'd proceed to blast this endlessly out my sun porch windows – or at least until I passed out from the wine. I wasn't real popular with the neighbors. So when I got notice that Pre-Teenage Symphony– a collection of demos for the album (plus a live show from the Cabaret Metro in Chicago) was being released, it was bittersweet. Yeah, it's one of my top 10 desert island albums, but I had a bit of trepidation revisiting it.
Well, screw that. This thing rocks like a beast, and I find that I appreciate it even more than I did back then. Velvet Crush were, outside of say Big Star or Cheap Trick, the greatest "power pop" band I've found. Between the guitars- either chiming ala The Byrds or as powerful as slap upside your head, the pounding drums of Ric Menck and those gorgeous vocals, the Crush had it all. And like so many of the great ones, they probably sold about seven copies back in the day. Hell, this new record is a compilation of two releases on their Action Musik label from back in the early 2000s, and those didn't sell either! But thankfully we have 16 tracks of pure aural candy to enjoy, and enjoy it you will.
The demos, recorded (as was the final album) by pop wunderkind Mitch Easter, are a bit louder and rawer than the released album, and it some ways this is a good thing- the songs aren't as "sweet" as you remember. Starting with the breathless "Hold Me Up" the magic is there in all its unabashed glory. Pre-Teenage has eight demos from the album (sadly, their magnificent version of the Gene Clark classic "Why Not Your Baby" isn't one of them), but as they say, it's all good. And in the case of "Time Wraps Around You", well, it's better than good. "Time", with its delicate guitar figure beginning and Paul Chastain's line "From the summer of love/thru the winter of fear", the song is probably Crush at their best, pure swirling stereo bliss. I could listen to this song on endless repeat, and when the guitar solo comes in, part savage feedback, part Roger McGuinn, well, I still find myself holding my breath until it's done, so incredibly beautiful.
Pre-Teenage Symphony is Christmas in July for power pop fans, and shows a remarkable, but sadly underappreciated band just about to hit their stride. Between this and their 1998 Heavy Changes record, you can have the rest of '90s musical crapfest, I'm good with the Crush. Some art doesn't age well. Reading Catcher in the Rye at 40 doesn't hold the same charm as it did at 15, for example. But the music contained here is timeless. The Velvet Crush truly captured something remarkable here, and if you haven't heard it yet, do. Bad wine not necessary for enjoyment.
---