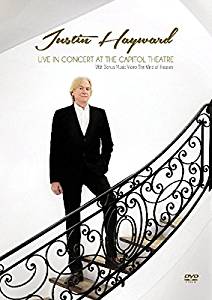 Justin Hayward Live in Concert at the Capitol Theatre
starring Justin Hayward
IM3 Global Entertainment
Neil Young once sang "It's better to burn out than fade away" but Justin Hayward has aged far more gracefully than so many of his contemporaries. Maybe it was his chosen musical genre, maybe it was restraint in the face of rock and roll party culture, or maybe his musical style of classical influenced progressive rock that kept him relevant. Whatever the reason, Hayward been a consistent generator of hit pop tunes and this low-keyed performance captures him at his best. He's on guitar; Mike Daws accompanied him on bass and guitar, and Judy Ragans on keys and percussion.
The Moody Blues was a band that loved personal projects and I still love Hayward's 1977 album Song Writer. Hayward could operate in both the collaborative world of a group, but was equally adept at making his own sounds. While a lifetime has passed since those heady days, this small concert shows he still has the skills to make a small trio sound like an orchestra, never mind the modern electronic music revolution. Hayward bursts out with an old favorite and his first really big hit: "Tuesday Afternoon." It sounds just like an old dream; his voice is velvet and each note stands alone. He's older, and dare I say "chiseled," but his vocals still resonate and a life time of music has made his genius seem easy.
Many cuts on this concert are strong but obscure. I'll confess I've not tracked him closely through the years of punk and techno and hip hop, but his effortless skills make "The Western Sky" and "Watching and Waiting" and "December Snow" hits I never experienced. As we roll through these dozen and a half tracks, we hope for more old favorites. Not all are here, but "Your Wildest Dreams," "Questions," and "Nights in White Satin" loom heavily. "Knights" is particularly poignant to me; the Dickies covered it in 1979 and that was my first and strongest connection to the burgeoning LA punk scene. Is this old hippie music? By all means, and it's some of the best. The anger over Vietnam is lacking, but the skills that moved the four-bar rockabilly sound into the classical concert hall remain holy. Hayward is a giant of the progressive rock movement; he ties the anger of rock to the intellectualism of New Wave, and leaves us all the more intelligent and enriched.
---