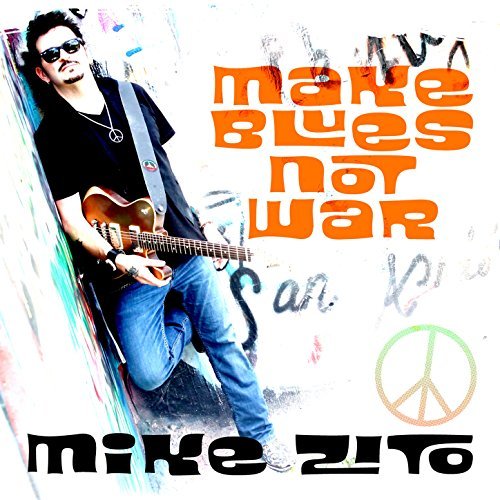 Mike Zito
Make Blues Not War
Ruf Records
Mike Zito is one of those musicians who consistently releases quality music and continues to keep traditional blues alive. Zito has hit the ball out of the park with Make Blues Not War, his 13th release and his best effort yet. The collaboration with iconic writer/producer/Grammy-award winner, Tom Hambridge, was something that the pair had planned for years, and it certainly paid off. Recorded live at Sound Stage Studios in Nashville, TN, Hambridge not only played drums, but produced and wrote/co-wrote most of the songs on the record, and anyone who works with him is that much richer for the experience. Most everything he touches turns to gold, and this release is no exception, having already been nominated for a Blues Music Award, and it is no surprise. One listen through and trust me, you will be hooked.
This ultra-tight collection kicks off with "Highway Mama," a Freddie King/Luther Allison-inspired cut with none other than Walter Trout on guitar. It sets the tone for the rest of the album, which does include a Luther Allison track, "Bad News Is Coming," featuring killer guitar and vocals, and subtle, tasty keys work from Kevin McKendree. The real slow-burning blues pieces include "Redbird," "Make Blues Not War," with sweet harp from Jason Ricci, "On The Road," which is accented by McKendree on clavinet and "Road Dog," featuring the slice-of-life imagery of the lonely musician's traveling plight and echoing hints of Tinsley Ellis. Also thrown into the mix are more upbeat, grooving tunes including "Wasted Time," "Crazy Legs," "Chip Off The Block," which was written for and features Zito's son, Zach, on lead guitar (and he did his Papa proud!), "Route 90," a boogie-woogie-esque number with McKendree prominently featured on piano, "Girl Back Home" boasting some stellar slide from Zito and "One More Train," a bluesy track with a southern twang, also featuring Ricci on harp.
Some records just grab you immediately and keep you coming back for more, and this is definitely one of them. Zito has overcome many personal hurdles on his musical journey of life, all of which have no doubt contributed to the heart and soul that he pours into everything he records. Because to play the blues with authenticity, you need to live them first. Anyone who thinks that doesn't matter doesn't know the blues, and Zito certainly does.
---