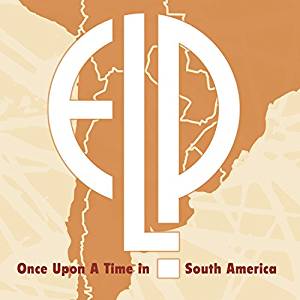 Emerson, Lake and Palmer
Once Upon A Time in South America
Rock Beat Records
There's a LOT of Emerson, Lake and Palmer in this package. Four CD's covers the high points of their 1993 tour through Chile, Argentina and other points south. Certainly you get all their big hits here along with more than a few nice but seldom heard cuts. Sound quality is very high for a big rock concert; clearly someone was paying close attention to the mix and this collection sounds as good as or better on your iPod than it did in the field. On the downside, the redundancy factor is high with the big hits appearing in up to three different concerts. Purists and hunter gathers of live sounds will be delighted; for a regular fan such as I tracking all four discs back to back becomes a little dreary.
Live concerts for established bands tend to pick up two sorts of tracks: the hits, and the experimental stuff the band loved but never made into an album. ELP's hits are plentiful: you get three versions of "Knife Edge," Mussorgsky's "Pictures at an Exhibition," "Touch and Go" and "Lucky Man." At least six other songs appears at least twice. While all are distinct, none stand out as exceptionally better than another and I ask: what's the difference between "comprehensive" and "padded?" Sound quality is good as live shows go but not up to their superb studio work, but the crowd does add its own energy. Cool items here include a singular "Karn Evil #9 1st Impression Part 2" with their "Gypsy queen in a haze of Vaseline." "Still… You Turn Me On" grabs you down low, and "Honky Tonk Train Blues" showcases how low down blues merges perfectly with high class symphonic rock and roll.
ELP did their best work in the early and mid-1970's. By the time this tour came along they had broken, up, made up, and decided to work their reputation in a distant land. The result is well executed and has no serious flaws beyond sheer length. It works summarizes their work, but its significant redundancies and long playing time begs for a better job of editing.
http:// EmersonLakePalmer.com; http://www.rockbeatrecords.com
---