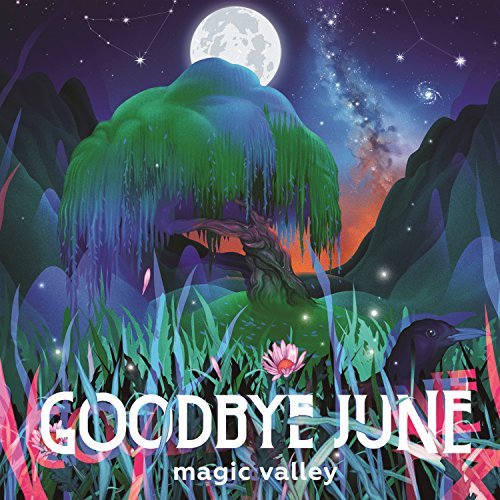 Goodbye June
Magic Valley
Interscope Records
A photographer friend recently saw Goodbye June at a festival and mentioned that I needed to check out this band, which, according to him, was just a great guitar-driven band with a classic rock sound. Fishing for note paper and a pen, I quickly jotted down the name and stuffed it into my bag, knowing that I would completely forget otherwise but always eager to follow up on a band recommendation. Lo and behold, when I was browsing through review opportunities for Ink 19 the next day, there it was – Goodbye June's latest release, the Paul Moak-produced Magic Valley. Naturally I grabbed the opp, and I was thrilled to discover that there are still bands who are not only writing (or co-writing) their own stellar music but also churning out a legitimate classic rock sound. The Nashville-based trio of young cousins Landon Milbourn (lead vocals, acoustic guitar), Brandon Qualkenbush (guitar, background vocals) and Tyler Baker (lead guitar, background vocals) were reeling from the death of Baker's brother when they decided to pursue their passion and make a go of it in the music biz. The result is nothing short of brilliant as they hook you from the first note with rich vocal diversity from Milbourn backed by tight instrumentation and production. Additional musicians on the record include Blake Hubbard on bass, Nathan Sexton on drums and producer (also co-writer on several songs) Paul Moak on B3 organ.
The record starts off with a one-two punch of the frenetic, vocally AC/DC-ish tracks, "Bamboozler," and "Oh No," and then veers into the Foster The People-esque "Daisy," where Milbourn really showcases his rock-star vocal range from raspy to falsetto. "Good Side" has a killer guitar solo and will have you moving to the beat, and then the pace slows down with "Darlin'," a beautifully heartbreaking acoustic arrangement where, at moments, Milbourn echoes Chris Martin of Coldplay vocally, as he does on the last song, the brilliant "Fear of Jesus." "Charge Up The Power" and "Goldmaker" are two more hard rocking, upbeat cuts while "Bad Things" offers subtle guitar that allows the vocals to shine. Some of the guitar work on "Riding," which is basically a band anthem ("On our way, I got my family, three cousins grown to make a history") also rings reminiscent of Foster The People, and "You Don't Love Me Like Before" shows a brutally honest and vulnerable side of Milbourn's vocals.
There's nothing about this album that I don't love. It may, in fact, be one of the year's most under-the-radar releases. I highly recommend getting your hands on this one. It does not disappoint on any level, and the versatility of sounds, which does not always work for a band, works perfectly on this one. I look forward to seeing this band live next time they come through my area.
---