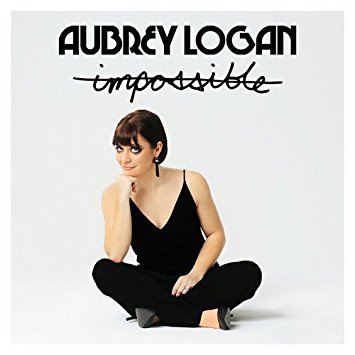 Aubrey Logan
Impossible
I first noticed Aubrey Logan as part of Scott Bradlee's Postmodern Jukebox, that group of talented musicians who cover new and modern songs in multiple classic styles. She has turned the Red Hot Chili Peppers' "Give it Away" into a mod Austin Powers groove, and "Ice Ice Baby" into a vintage jazz piece, providing vocals and trombone accompaniment. So when I saw that she was releasing a solo album, I was intrigued.
Impossible did not disappoint.
The album starts off with a soulful and tragic tale of a woman whose heart is broken right before a trip ("Crying on the Airplane"). It should be illegal for a sad song to be so catchy. Logan wails while her backing band tears up the Stax-inspired tune. After that emotional roller coaster, you think it's more of the same with "Pity Party," but they throw you a curve ball with a jazzy song that is actually about getting over a break-up. "Pistol" was picked to be the first single, and it was a damn good choice. It starts with a funky groove, then Logan's trombone kicks in. While previously her voice has been alternating between sad and cheery, sultry is the only descriptor for the way she sings these verses. The chorus, on the other hand, transitions into full ahead pop star sing-along. If radio play was still a thing, this would be in heavy rotation for the next few months.
The rest of the album continues to span genres, with torch songs, pop tunes, more jazz, and a couple of cover tunes. "California Dreamin'" features Casey Abrams, and gives an almost gospel feel to the classic. While their vocals deliver the emotion of the lyrics better than any previous version, the trombone break in the middle feels out of place. "You Can't Touch This" is a scat-inspired re-imagining of the MC Hammer hit, and will definitely raise a few eyebrows. Despite the best efforts of the talented performers, something about the song doesn't click. Perhaps it is because it is so identified with the original artist, including several shout outs to him in the lyrics.
Often you will see a review that says, "there is something here for everyone." Well, since there really isn't any country on this album, I guess that isn't the case here. But Impossible is quite an eclectic collection of songs. Do yourself a favor, and check out "Pistol" at Aubrey Logan's website or YouTube. Listen to it through good headphones or speakers, not laptop speakers or one earbud. If that whets your appetite, pick up Impossible.
---