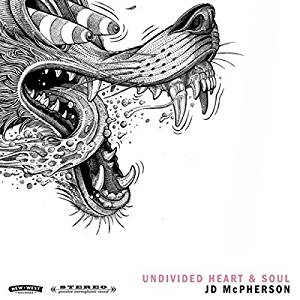 JD McPherson
Undivided Heart and Soul
New West Records
McPherson decided to toss out a "Lucky Penny" to start out the introduction of his latest recording offered by New West Records. "Lucky Penny" has the same rocking spirit you'd expect from McPherson with a little heavy-footed fuzz buster thrown in to add some fun electronica sounding fuzziness. Call me quirky or an oddball but I tend to fall in love with songs that never make radio so let me mention a few here from Undivided Heart and Soul. I haven't had a song send my feet flying above my head and rose petals and sweet violets up my nasal passages in years until I heard JD McPherson's "Jubilee". This song is like a love anthem. It literally allows you to hear breathing the smell of love. A floaty tune of lightness and dreams. The guitar is swooning and moaning; just a completeness of passion in music. Is it obvious that I love this song?
"On The Lips" is a tune that you would expect to be on every radio station that played on every beach every summer around every surf hut. Surfer tune all the way. I can just see bikini clad hips shakin' away to this little ditty. Driving down A1A in a convertible and wearing Sun-In in your blonde hair and Coppertone on your skin. Heavy bassline in this tune. The bassline carries the tune throughout the whole song. Light horn line in the background. "Hunting For Sugar" is a classic half boozed up and sick in love slow dance tune. It's one of those songs where you literally cocoon yourselves together and maybe share a cigarette and even a drink and maybe not even dance. You just stand there and maybe just sway to the rhythm and hold onto to each other. Another very dreamy and crooning love song. Give me a break. I'm a female. Lots of bells and tinkling sounds. Very ethereal. "Uncle Peter, where's my smelling salts?" "Bloodhound Rock" gets your feet really stomping fast right off with a standup bass thumping off fast and hard. I jumped on this one like a nasty stink on a cow pile. Instantly started clogging under my desk. Songs like "Bloodhound Rock" can never go on long enough—you can take songs like that and stretch those suckers out hours long in jams.
I hate bringing up clunkers but, there's always a clunker, folks. Always. JD's not immune from having a clunker on a CD just because 99.9% of most of his music is fabulous. Undivided Heart and Soul just happens to have a clunker. I had to turn it off before I could even listen to the whole song. The song is called "Style" and it just was not my cup of tea and had way too much static noise to be pleasant to listen to. There was just too much of too much in the song.
The title tune "Undivided Heart and Soul" is the song you're looking for if you're looking for your usual McPherson tune. The song shuffles you down a McPherson lane of moaning cradles of swooning guitars and groaning bass. "Crying's Just a Thing That You Do" is a twisty, little saxed-up shaker that would be a favorite in a dance hall or, yes ma'am, you ladies that earn your living as exotic dancers need to check this tune out. I can gay-run-tea tens an' twun-tees. Rapping is perfect for shivering and trembling on the snare drum. Bassline thumping away to provide a good stomp. And the growl on the bass sax is damn bad ass.
Other tunes offered up on this play it again and again CD that it well worth every red cent you would squeeze out of Lincoln's ashes are "Desperate Love", "Under the Spell of City Lights" and "Let's Get Out of Here While We're Young". I spent a full week bathing in this glorious CD by McPherson; coming out from underneath it with a horrendous stomach flu. I, also, came out with a new tune to add to my top ten favorite songs from McPherson in "Jubilee", though.
---