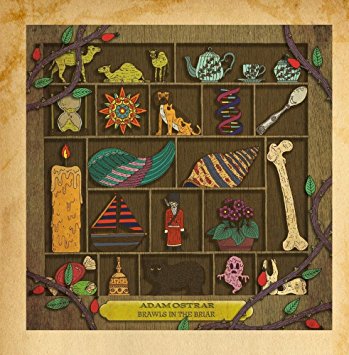 Adam Ostrar
Brawls In The Briar
Super Secret Records
Ok, bear with me here, because this might get confusing. Adam Ostrar – nee Adam Busch when he headed up bands such as The Curious Digit and Manishevitz – has a made a record that at first glance looks like a folk release. From the title Brawls in the Briar, to the rustic, wood-grained cover and the delightful hand-drawn images of dogs, ghosts and a tea service on the liner notes, you might think this was a strum-strum record of fireside singalongs.
Well, until you played it, that is. The opening cut, "Enemy" establishes the mood of the record with a low-key, Lou Reed-ish guitar pattern atop an insistent piano figure that lets Ostrar's somewhat unsettling vocals to pull you along. The entire record never raises above a whisper, and becomes ever more ominous as it goes. Imagine putting the original line-up of the Velvet Underground in a cabin along with Young Marble Giants and making them share an amp. (Told ya it might get confusing). Now, at times Ostrar unleashes some Frippish guitar histrionics, but they are masterfully subdued. The record reminds at points of English art rock, such as Roy Harper on Bullinamingvase or perhaps more sedate Julian Cope, and the record ends with a cover of Eno's "Cindy Tells Me" from his 1973 masterwork Here Come The Warm Jets.
Brawls in the Briar isn't what you'd expect at first glance, but as someone wise once told me, you can't judge a book by looking at the cover. This is a stunning work of low-key drama and mystery, full of hidden places and surprising touches. I can't wait to hear more from Adam Ostrar – or whatever he goes by the next time out, because this music is damn near flawless.
---