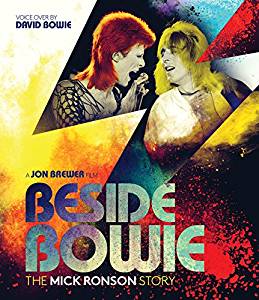 Bedside Bowie – The Mick Ronson Story
directed by John Brewer
starring Mick Ronson, David Bowie
MVD Visual, Empire Media
All talented artists need of some sort of support, whether it's a producer, a muse, or a backup band. In David Bowie's career, Mick Ronson was the launch pad. No question Bowie had the charm and flash to lead he glam movement, but it was Ronson that had the technical skills and guitar licks needed to give Ziggy Stardust a sound worthy of his concept. Ronson had already worked for multiple failed bands including "The Rats", and when approached by John Cambridge from that less than successful outfit, he was reluctant to get pack into music. Good for us, though, as he became a critical part of the greatest early glams band ever. "Ronno" (as everyone called him) was not only a great guitarist; he had studied music and knew how to arrange. That is, he gave all the instruments something useful to do, he conceives of songs and an album as unified whole, and then broke it down into individual musical notes each musician needed to play. Rock may sound chaotic, but if a song is truly great, there's a little noticed arranger that makes it so.
This 100-minute journey follows the structure of most rock docs. With Ronson long gone (he died of liver cancer in 1993) Brewer interviews everyone he can find include Angie Bowie, Ian Hunter, and Rick Wakeman. Bowie's notices are universally positive, Ronson may not have stood out on his own, but he did great things for others. Angie Bowie take us back to the early days of glam rock when everyone one was broke, creative and slumming in a semi-abandoned manor house in London. At one point Ronson again was ready to quit the business, but he was given songs by Ian Hunter (Mott The Hoople) and played on Hunters hit "Once Bitten Twice Shy." Rick Wakeman, keyboardist for "Yes" played with Bowie and offers his reminiscences. Gems of musical history are scattered everywhere, I was surprised to learn Ronson arranged "Jack and Diane" for John Mellencamp.
Like most rock docs you need to be at least a minor fan of the artist to enjoy the story, but the association to Bowie's career is plenty of impetus to keep you glued to this solid story of a brilliant musician living in the shade of giants. And as Mary Finagal, an early roommate bragged: " We had the best sex, the best drugs, and the best music." Who would want to miss that?
http://mvdentertainment.com/2017/08/30/beside-bowie-the-mick-ronson-story/
---