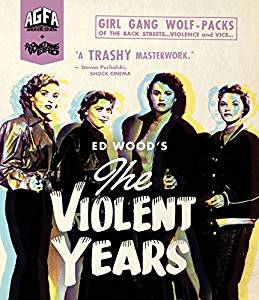 The Violent Years
William Morgan
Jean Moorhead, Glen Corbett, Lee Constant
AGFA
There were a few bright spots flashing in the darkness that was 2017. Chief among them would be the launch of American Genre Film Archive, a restoration company dedicated to preserving and restoring the strangest bits of previously ignored cult film for a public that might not even realize how much they need to watch these things.
OK, so they're not exactly Doctors Without Borders or No More Homeless Pets, but who else would lovingly remaster stuff like Bat Pussy , even if the world wasn't exactly clamoring for such a thing?
AGFA's third contribution to society is a remastered version of The Violent Years, Ed Wood's yarn about a high school girl gang.
Sandwiched between courtroom and jail scenes, The Violent Years is the story of pampered yet bored Paula (Jean Moorhead) who due to a lack of parental involvement, likes to rob gas stations with her high school pals for kicks.
Even the excitement of armed robbery wears off eventually, so the girls graduate to the kidnap and sexual assault of a young man. This is carried out with all the tact and class that you'd expect from an exploitation flick, even with a newspaper headline announcing "Young Man Robbed, Criminally Attacked by Four Girls." Their search for kicks spurs their crime boss/fence Sheila (Lee Constant) to give them a job trashing their high school which is suggested to be requested from the commies. The school job is more than the gang bargained for, and the girls set into motion a plot with dire repercussions.
Written but not directed by Ed Wood, The Violent Years retains Wood's 'almost like what a real person would say' dialogue and if somewhat straightforward for him, the plot gives several opportunities for sweater shots.
AGFA has done another remarkable job of restoration and the Blu-ray is loaded with extras, including commentary, film trailers for "gutter noirs" and an extra film, Anatomy of a Psycho. Unfortunately, these were not available in the review copy. Fans of cult movies will rejoice at the loving care that has been applied to this movie, and breathlessly await the next release.
---