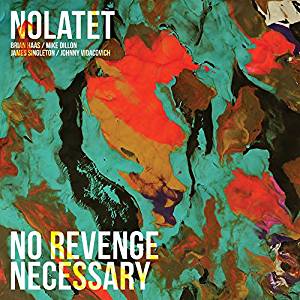 Nolatet
No Revenge Necessary
The Royal Potato Family
If not for the largely inhospitable climate and fear of flooding, my music-loving butt would be lodged on a barstool in some tiny club on Frenchman Street in New Orleans, Sazerac in hand, grooving. To what, it really doesn't matter, because NOLA has that certain something in the air that makes everything a bit funkier. If I sat long enough, I'm betting I'd witness Nolatet – drummer Johnny Vidacovich, bassist James Singleton, vibe player Mike Dillon (Rickie Lee Jones, Les Craypool's Frog Brigade) and pianist Brian Haas (Jacob Fred Jazz Odyssey), and if their sophomore album No Revenge Necessary is any indication, my mind would be blown.
The rhythm section of Vidacovich and Singleton are New Orleans intuitions, playing together for decades with such luminaries as Professor Longhair and James Booker, and their interplay on moments such as the opener "Lanky, Stanky Maestro" or "Bluebelly" is nearly telepathic. "Black Sheep" features Singleton on pocket trumpet, a brooding, evolving tune that keeps the tension high. The title cut by Brian Haas, featuring great interplay between his piano and Dillon's vibes gives us a bit to slow down before cuts such as "Dikefinger" (Singleton's semi-Second Line ode to Katrina) wear us out.
If you enjoy music made purely for the joy of creation, with no expectations other than a challenging good time, then check out No Revenge Necessary. It's daring yet subtle, fierce yet at times mannered. Overall, it's New Orleans. And there ain't nothing better than that.
---